Smartsheet
What Is Smartsheet?
Smartsheet, an online work execution platform, empowers organizations to plan, track, automate, and report on work. Over 80,000 brands rely on Smartsheet for project and work management because of
Read more
its easy-to-use interface, real-time gantt charts and dashboards, and work automation features. *2018 Awards: Named a Leader in Enterprise Collaborative Work Management by Forrester Research, Selected to Deloittes Fast 500 List, Recognized for Technology Innovation & Vision by 451 Research
Read less
Who Uses Smartsheet?
Smartsheet's intuitive online project management app is used broadly across organizations to track and manage diverse types of work for teams large and small, from enterprise companies to SMB's.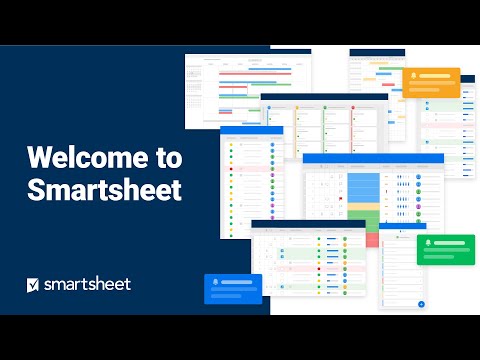 Not sure about Smartsheet? Compare with a popular alternative
Gabriel
Sales Consultant Associate in US
Verified LinkedIn User
Insurance, 10,000+ Employees
Used the Software for: 1+ year
Robust and complex.
Comments: Thanks to Smartsheet, we can progress through a project quickly and always see the big picture. Keeping track of where we are in the process would be impossible without the automation features and the tags I can add to or assign to a column. Smartsheets allow for the creation of forms, which simplifies the data entry process.
Pros:
I can effectively automate specific deadlines and checkpoints on a timetable using Smartsheet's numerous choices. In Smartsheet, I enjoy that I can collaborate on a single document without having to keep track of many versions of the same file. Additionally, it is more secure than sending an internal copy to an outside party because doing so would need backing up the document on our server, putting us at risk for security breaches. Smartsheet offers so many helpful features that it acts as a virtual cheat sheet for me, removing the need for me to manually enter computations; I gained a lot of time at work once I figured out how to customize it particularly for the requirements of my location.
Cons:
What I dislike about Smartsheet is that it is difficult to use. That's unfortunate because the subject is quite complex. Employees must first attend a free training session before they can begin using the program. It would be helpful if videos were available on the homepage to assist new employees in getting started with Smartsheet.
Mital
Sr. QC Manager in US
Health, Wellness & Fitness, 51-200 Employees
Used the Software for: 1+ year
Want to go from 2 hours to 15 minutes? Use Smartsheet.
Comments: Love Smartsheet, it has helped us increase our productivity, added efficiency with oue work and traceability has been on the top notch as well. It has been a game changer software.
Pros:
Automations are my most favorite feature of this software. And of course generating documents is another great feature, we get our reports generated with automations as well.
Cons:
Have to scroll through the page every time you save changes to go back to your desired cell.
Aditi
Data Engineer in India
E-Learning, 51-200 Employees
Used the Software for: 6-12 months
Efficient for daily use
Pros:
Ease of use; data readily available for proper viewing
Cons:
Nothing comes to mind, although dashboarding can be a bit better
Connie
Manager of Operations in Canada
Banking, 501-1,000 Employees
Used the Software for: 6-12 months
Alternatives Considered:
Smartsheet Review
Comments: This software can be used in so many applications with no code necessary to create automations, dashboards and data aggregation from other sources. We have been able to redeploy thousands of working hours from administrative duties to value add activites.
Pros:
Product can be purchased with a limited number of licenses to gain knowledge and champions to scale. This allows for a low cost entry point. Users do not have to be licences to use the software only to create or edit an existing Smartsheet.
Cons:
The only issue we have encountered so far was the challenges to get our organization to scale its use. However, after 6 years we now see widespread use of the software with licenced active users in most departments.
Max
Technical Project Manager in US
Medical Devices, 10,000+ Employees
Used the Software for: 2+ years
Smartsheet is Easy
Comments: Smart heat is great tool to easily track and manage tasks and can simplify the whole project management experience.
Pros:
Out-of-the-box templates are great with smart sheet. I highly recommend using those tools rather than manually, creating certain tracking tools on your own.
Cons:
I wish smart Sheidt help you create a hierarchy, more effectively where you can see a parent task is bold.