What Is mHelpDesk?
mHelpDesk is the #1 easiest and most powerful software solution for your field service business, automating everything from first customer contact all the way to getting paid. We provide our customers with mobile and online tools that are unmatched in performance, reliability, and functionality. We've packed the best tools into one extremely easy-to-use and affordable package that requires no big upfront investment. And we have in-house product experts to get you up and running immediately.
Who Uses mHelpDesk?
mHelpDesk is perfect for established and growing small/medium businesses who need better organization, mobile access, and more efficient scheduling and billing processes.
Where can mHelpDesk be deployed?
Cloud, SaaS, Web-based, Mac (Desktop), Windows (Desktop), Linux (Desktop), Android (Mobile), iPhone (Mobile), iPad (Mobile)
About the vendor
mHelpDesk
Founded in 2009
Phone Support
Chat
Countries available
Canada, United States
About the vendor
mHelpDesk
Founded in 2009
Phone Support
Chat
Countries available
Canada, United States
mHelpDesk videos and images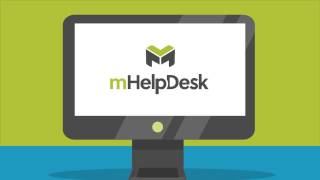 Compare mHelpDesk with similar products
Features of mHelpDesk
Access Controls/Permissions
Accounting Integration
Activity Dashboard
Activity Tracking
Add & Edit Photos
Alerts/Notifications
Appointment Scheduling
Approval Process Control
Asset Tracking
Automated Quoting
Automated Scheduling
Automatic Time Capture
Billing & Invoicing
Business Process Automation
CRM
Calendar Management
Calendar Sync
Client Management
Comment Library
Configuration Management
Contact Database
Contract/License Management
Cost Database
Cost Tracking
Customer Database
Customer History
Customer Management
Customizable Branding
Customizable Fields
Customizable Reports
Customizable Templates
Data Import/Export
Data Visualization
Discount Management
Dispatch Management
Document Management
Drag & Drop
Electronic Payments
Electronic Signature
Email Management
Employee Database
Employee Management
Employee Scheduling
Equipment Management
Equipment Tracking
Estimating
Facility Scheduling
Financial Management
Fixed Asset Management
Fleet Management
For Commercial and/or Industrial Electrical Contractors
Forms Management
GPS
IT Asset Management
Incident Management
Inspection Management
Intake Management
Inventory Auditing
Inventory Control
Inventory Management
Inventory Optimization
Invoice Management
Job Costing
Job Management
Job Scheduling
Maintenance Management
Maintenance Scheduling
Mobile Access
Mobile Alerts
Mobile App
Mobile Signature Capture
Multi-Location
Online Booking
Online Time Clock
Online Time Tracking Software
Payment Collection in the Field
Payment Processing
Preventive Maintenance
Pricing Management
Project Management
QuickBooks Integration
Quotes/Estimates
Real Time Data
Real Time Reporting
Real-time Scheduling
Recurring Appointments
Release Management
Reminders
Repair Tickets
Report Summary
Reporting/Analytics
Residential Inspections
Routing
Scheduling
Self Service Portal
Service Catalog
Service History
Service Level Agreement (SLA) Management
Supplier Management
Task Management
Technician Management
Templates
Third Party Integrations
Ticket Management
Time & Expense Tracking
Time Tracking
Vendor Management
Work Order Creation
Work Order Management
Workflow Configuration
Mark
CEO in US
Verified LinkedIn User
Used the Software for: 1+ year
Our experience has been extremely positive. No other company would go this far for a customer.
Comments: We are completely cloud-based, completely mobile, our response time has decreased and profits have increased. We have found a vendor/partner that listens. We truly have an integrated product from end-to-end. Service calls/requests for quotes come in, an excellent work product goes out, seamlessly.
Pros:
The field app is very strong and that is a must. The admin provides a true workflow experience. The software is as flexible as it can be, provides true integration to QB, and has cut our entry time in half. Our profits are up and communication is vastly improved. The cloud feature fits our Disaster Response plan. Their customer service is the best I have seen and we have tried many.
Cons:
Very little to dislike. They are always improving. I would like to see an inventory module, and Ajax searches would be a real improvement. But overall, they are the "best-in-class".
mHelpDesk Response
5 years ago
Thank you for sharing your thoughts on mHelpDesk Mark! We are so happy to work with you and VIALARM.
Information Technology & Services, 2-10 Employees
Used the Software for: 2+ years
Alternatives Considered:
Field Service Software for any Business to Stay Organized
Comments: Overall I have had a really good experience, anytime I have ran into a problem which is not very often but my problems have been resolved in a professional and expediential matter that allowed my business to continue to operate. You can keep an open line of communication with your customers on work order status or any problems that arise during the work order.
Pros:
You are able to automate your business to keep a customer database, schedule and track work orders. Billing is a breeze with in the email feature you send to your customers. They can pay directly with PayPal or Credit Card account. There is even a feature to generate leads to your business. You can customize your invoices and work orders to meet your business needs. Works on mobile Apps and integrates all your invoices to quick books.
Cons:
When customers pay from your credit card account, you are only able to setup and activate one payment option at a time. It would be nice to have individual bank accounts set for different sections of your business model.
Mas Idayu
Information Technology Assistant in Malaysia
Verified LinkedIn User
Oil & Energy, 10,000+ Employees
Used the Software for: 1+ year
Great helpdesk application
Pros:
It's elegant in its simplicity, easy to use and does what it's supposed to. As long as you're only looking to arrange projects and make invoicing and estimates, it's a great tool. There's also a smartphone app, although it's just good for the basics. Assessments, service calls, and invoices may be done quickly and easily. Managing customer information across various employment locations is a joy.
Cons:
There are instances when they provide upgrades that don't benefit my daily application use. Because they cater to a wide range of sectors and demands, I can see how the change would be beneficial. More of them being optional would be ideal. There is a noticeable lag in the application's response but not too serious.
Luis
Technology Manager in US
Security & Investigations, 11-50 Employees
Used the Software for: 2+ years
Alternatives Considered:
Update to previous review after 3 years
Comments: Another really pet peeve that I did not have enough space for under Cons: It's ridiculous right from the beginning and for years now, you can't hide or remove former users you deleted from the Staff List. Anyone you add will be there forever, cluttering up your view of the Staff list. It's things like this, while initially we were very much advocates for mHelpDesk and thought it had a lot of potential, our views have changed because it just seems stagnant. That, and given subscription prices have risen a lot more than when we started. We've been able to negotiate lower prices as a long time customer, but if we had to pay today's rates based on what we know now, we would look for something else. And it's ok enough for us to stay, but if they were to raise our rates to current, we'd strongly consider leaving.
Pros:
We initially liked this platform because for what we needed it was one of the best values out there at the time. Granted, anything was better than what we had, which came down to mostly notes in a ticket system in our previous CRM.
Cons:
Many things have become cons over the years, mostly because we have seen very little improvement from our point of view. It's like development has been minimal at the most. For example, it has some glaringly missing auditing capabilities. A person can assign an Item in a Work Order/Jobs under another person's name, and there is no record of who did it for accountability. The "Items" area is where you add both parts and labor to a ticket, but sometimes you want labor or other general notes that do not print up on a Work Order/Job. However, you can't select which get printed on a WO/Job and which do not, it is all or none. If you sell systems on leases, there is no easy way to track or separate the leases. You can create customer fields for the lease, but if there is more than one lease involved, there's no easy way to do that. We've ended up having to create multiple accounts for the same customer to keep the leases separated, which can cause confusion like which account should should the work order/job be one. There is only a check box for Billable when you add work to a ticket. There's no way to add other options like "Warranty", "Rework" or "Service Plan" plan, for example. You can't add negative quantities to a Job/WO. Meaning while you can add items used in a job, you can't track material you're removing from the site in the same way, such as things you are crediting back or exchanging.
mHelpDesk Response
3 years ago
Luis, thanks for the review. We're continuing to make investments in the user experience so be on the lookout for new functionality this year and into the future. We're glad to hear that our Customer Support team has been helpful and that mHelpDesk has been useful for your business. Thanks for being a customer!
Ryan
IT in United Arab Emirates
Telecommunications, 201-500 Employees
Used the Software for: 1+ year
With mHelpDesk, My Workflow is Always Save.
Comments: I have well satisfactory experience using mHelpDesk software.
Pros:
I like the offline version which always keeps my work saved and secure.
Cons:
This software has not given me any issues so far.