15 years helping Singaporean businesses
choose better software
What Is Absorb LMS?
Absorb is a cloud-based learning management system (LMS) engineered to drive business productivity and deliver a top-tier learner and admin experience. Absorb LMS is a powerful and flexible software that allows its customers to fit the LMS to their learning program. Get more ROI from your learning program with simplified and AI-driven admin tools and a more intuitive user experience for learners to access, discover, and retain learning content.
Who Uses Absorb LMS?
Organizations providing employee training, external training including e-commerce, or a mix. Absorb's clients range from a few hundred learners right through to hundreds of thousands of learners.
Where can Absorb LMS be deployed?
Cloud-based
On-premise
---
About the vendor
Absorb
Located in Calgary, Canada
Founded in 2002
Absorb LMS support
Phone Support
24/7 (Live rep)
Chat
Absorb LMS pricing
Starting Price:
Yes, has free trial
No free version
Absorb LMS does not have a free version but does offer a free trial.
Pricing plans
get a free trial
About the vendor
Absorb
Located in Calgary, Canada
Founded in 2002
Absorb LMS support
Phone Support
24/7 (Live rep)
Chat
Absorb LMS videos and images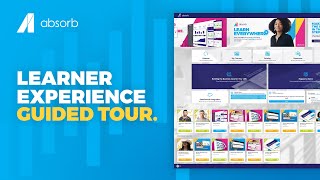 Features of Absorb LMS
Activity Dashboard
Activity Monitoring
Alerts/Notifications
Assessment Management
Assignment Management
Asynchronous Learning
Audio/Video Recording
Blended Learning
Built-in Course Authoring
Certification & Licensing
Certification Management
Competency Management
Compliance Management
Compliance Tracking
Content Library
Content Management
Content Sharing
Course Authoring
Course Library
Course Management
Course Publishing
Course Tracking
Customizable Branding
Customizable Questions
Customizable Reports
Customizable Templates
Data Import/Export
Document Management
Electronic Forms
Employee Engagement Software
Employee Handbook
Employee Onboarding
Employee Portal
Employee Training
For Nonprofits
Gamification
Interactive Content
Interactive Learning
Learner Portal
Learning Management
Learning Paths/Tracks
Media Import
Microlearning
Mobile Access
Mobile Learning
Multi-Language
Multi-User Collaboration
Orientation Workflow Management
Progress Reports
Progress Tracking
Reminders
Reporting & Statistics
Reporting/Analytics
SCORM Compliance
Self Service Portal
Self-Learning
Self-Service Content Curation
Skills Assessment
Social Learning
Storyboarding
Synchronous Learning
Template Management
Tests/Assessments
Third Party Integrations
Third-Party Integration
Training Administration
Training Companies
Training Management
User Management
Video Management
Nicolas
Financial Analyst in US
Verified LinkedIn User
Financial Services, 201–500 Employees
Used the Software for: 1+ year
Reviewer Source
Flexible and very complete LMS
Pros:
It stands out for its simplicity of use and its pleasant user interface. It offers great flexibility in the design of learning experiences, adapting them to the characteristics of each training process. It has an electronic signature so that participants can demonstrate that they met the requirements of their training process. Integrates seamlessly with any eLearning content library.
Cons:
I consider that this is a platform with a lot of potential, the only thing that I think can be improved is to simplify some processes to make the configuration easier.
Yashovardhan
Researcher in India
Education Management, 1,001–5,000 Employees
Used the Software for: 1+ year
Reviewer Source
All-in-one learning platform for Everyone
Comments: I have been using the Absorb LMS for a few years, and have been very pleased with their platform. It is user-friendly, offers a great range of features, is well-supported and highly customisable. The training program setup and course creation process has been easy to learn and manage. I especially appreciate the reporting features which are very user-friendly and provide meaningful data. I also think Absorb has done a great job of creating an online community of customers which is a great resource for ideas and best practices.
Pros:
The features most impactful in Absorb LMS are customizability, scalability, analytics, and reporting. Users can easily customize the look and feel of the platform to best suit their organization's needs. Additionally, it can be scaled up or down depending on the size of the organization and their training needs. The analytics and reporting tools provided by Absorb LMS make it easy to track learner engagement and course effectiveness. Additionally, Absorb's API also allows organizations to easily integrate Absorb into existing business processes. Finally, Absorb LMS is incredibly easy to use and provides a straightforward user interface for authors and learners.
Cons:
One of the areas of least satisfaction with Absorb LMS is the amount of setup required to configure the system. This can be particularly challenging for non-technical users and requires a fair amount of time and energy to get the system settings just right. Additionally, the interface of the interface and navigation could be more intuitive.
Alternatives Considered: WizIQ LMS, eFront and Docebo
Reasons for Switching to Absorb LMS: Absorb LMS stood out to us as a comprehensive, cost-effective, and intuitive platform that addressed all of our training needs. It provides a comprehensive range of features and customization options, making it easy to customize and configure the system to our specific needs. The customization flexibility also allows us to create automated rules and automate much of the training process. It offers scalability for growth, flexibility for changes, and has robust security measures in place to protect our data. Finally, the Absorb LMS is one of the most cost-effective options on the market. That combination of features makes it an easy choice for a reliable and successful implementation of our online training.
Sarah
Research Analyst in US
Research, Self Employed
Used the Software for: 6-12 months
Reviewer Source
eLearn Anywhere
Comments: Excellent, the technology itself, and set up, software? I couldn't ask for anything better when it comes to progressive learning and excelling within a business.
Pros:
In case you're wondering, the LMS stands for learning management system and this is exactly what it is. I can't tell you how many times I've literally depended on this e-learning software to help jog my business / customer focus point of view. This is a very helpful system, it'sseems almost customized to your cloud-content.
Cons:
I only have one issue with this system, and of course it would be pricing. I'm a small business, and I work alone, so I was lucky to receive the free trial that I did because it cost around $12 to $17 (I believe) per active user to operate the system per month. It's a top of the line piece of software however the pricing, surely there's another way?
Andrea V
Support Director in US
E-Learning, 51–200 Employees
Used the Software for: 1+ year
Reviewer Source
A bit clunky but in the end it does the job
Comments: Having to deliver training content for compliance purposes has been very easy and fast to setup thanks for the integrated content library. It is not complicated to use if the project is simple. Reporting can be s bit slow but it does its job.
Pros:
It does the job. The course creation feature is good, the authoring tool doesn't disappoint, and the free content library is perfect. This is very important for companies that need to deliver training in no time. The performance is good because it's cloud-based, so it scales well in case of need. The LMS could also be a source of revenue thanks to e-commerce tool. It comes with a lot of integrations so the system can communicate with external environments.
Cons:
The look and feel appears dated, despite constant improvements, and the administration tasks need to be done according to Absorb's logic and it could be very different from how other LMSs work.
Verified Reviewer
Verified LinkedIn User
Publishing, Self Employed
Used the Software for: 2+ years
Reviewer Source
Relatively nice learner experience
Comments: A relatively nice UI, hampered by implementation issues
Pros:
Absorb LMS is a highly user-friendly learning management system that offers a wide range of customization options. The platform integrates seamlessly with other systems and tools, making it a versatile choice for organizations. Absorb LMS provides excellent customer support and training resources to ensure a smooth implementation process. The reporting and analytics features are robust, allowing for detailed tracking of learner progress and engagement. The mobile app is well-designed and provides learners with easy access to course content on-the-go. The gamification features are engaging and encourage learners to stay motivated and complete courses. The system is scalable and can accommodate the needs of both small and large organizations. The platform is constantly updated with new features and improvements based on user feedback. The pricing is reasonable and provides good value for the features offered.
Cons:
A big challenge with Absorb LMS is the initial setup process, which can be time-consuming and requires a lot of input from the organization. This can be frustrating for users who are eager to get started with the platform and may not have the resources or expertise to complete the setup process quickly. Additionally, some users have reported issues with the system crashing or freezing during use, which can be disruptive and impact productivity.