What Is Salesforce Sales Cloud?
Salesforce helps Singapore small and medium businesses pivot to business growth with 80% grant support Salesforce has partnered with Enterprise Singapore (a Singapore government statutory board) to be a pre-approved PSG (Productivity Solutions Grant) and aims to help small and medium businesses in Singapore accelerate digital transformation, increase productivity, and close deals more efficiently. Learn more on how you can kickstart your technology journey with grant support of up to 80%.
Who Uses Salesforce Sales Cloud?
With Salesforce's multi-tenant cloud computing model we can serve the needs of companies of all sizes, in any industry. Our customers benefit from a shared main framework, while maintaining privacy.
Where can Salesforce Sales Cloud be deployed?
Cloud-based
On-premise
---
About the vendor
Salesforce
Located in San Francisco, US
Founded in 2003
Salesforce Sales Cloud support
Salesforce Sales Cloud pricing
Starting Price:
Yes, has free trial
No free version
Salesforce Sales Cloud does not have a free version but does offer a free trial.
Pricing plans
get a free trial
About the vendor
Salesforce
Located in San Francisco, US
Founded in 2003
Salesforce Sales Cloud support
Salesforce Sales Cloud videos and images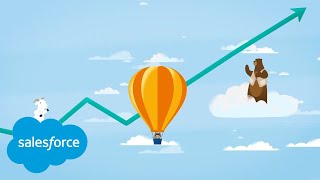 Features of Salesforce Sales Cloud
AI/Machine Learning
Access Controls/Permissions
Activity Dashboard
Activity Tracking
Agent Management
Alerts/Notifications
Appointment Management
Appointment Scheduling
Auto-Dialer
Batch Processing
Bid Management
Budgeting/Forecasting
CRM
CRM Integration
Calendar Management
Calendar/Reminder System
Call Center Management
Call List Management
Campaign Management
Cataloging/Categorization
Change Order Management
Channel Management
Client Management
Client Tracking
Client/Property Matching
Collaboration Tools
Commenting/Notes
Commission Management
Communication Management
Contact Database
Contact Management
Content Delivery
Content Management
Contract/License Management
Customer Database
Customer Engagement
Customer Social Profiles
Customizable Branding
Customizable Fields
Customizable Reports
Customizable Templates
Dashboard
Data Import/Export
Data Visualization
Deal Management
Document Management
Document Storage
Email Management
Email Marketing
Email Templates
Employee Management
Estimating
Financial Management
For AEC Industry
For Insurance Industry
For Mac Devices
For Real Estate
For Real Estate Agencies
For Sales Teams/Organizations
For Small Businesses
For Startups
For iPad Devices
Interaction Tracking
Job Scheduling
Key Performance Indicators
Knowledge Base Management
Knowledge Management
Landing Pages/Web Forms
Lead Capture
Lead Distribution
Lead Management
Lead Nurturing
Lead Qualification
Lead Segmentation
Listing Management
Live Chat
Marketing Automation
Mobile Access
Opportunity Management
Patient Communications
Performance Management
Performance Metrics
Pipeline Management
Predictive Analytics
Prioritization
Project Management
Project Tracking
Prospecting Tools
Quality Management
Quotes/Estimates
Real Time Notifications
Real-time Updates
Referral Tracking
Reminders
Reporting & Statistics
Reporting/Analytics
Sales Activity Management
Sales Approval
Sales Onboarding & Training
Sales Pipeline Management
Sales Reports
Sales Trend Analysis
Scheduling
Search/Filter
Segmentation
Self Service Portal
Shared Contacts
Social Media Integration
Subcontractor Management
Task Management
Territory Management
Third Party Integrations
Transaction Management
Visual Analytics
Web-based Deployment
Workflow Management
Salesforce Sales Cloud Alternatives
Reviews of Salesforce Sales Cloud
Huw
Account Manager in Ireland
Verified LinkedIn User
Computer Hardware, 10,000+ Employees
Used the Software for: 1+ year
Salesforce CRM Review - Daily user
Comments: My overall experience using Salesforce has been good. I've used the application for 19 months and I'd say it took at least 3 months to get familiar with the tool. I work for an organisation of +180k and the tool is used widely across the business, which is a testament to its reliability and scalability. For smaller organisations, there is likely to be less complexity involved, as there will be less integration required with other applications - which Salesforce does incredibly well. To summarise, I'd say to prospective adopters of Salesforce, expect to invest some time in training new users of the tool but its remarkable functionality and capabilities far outweigh this ramp-up period.
Pros:
-Highly customisable with deep and wide integration with my organisations SaaS or natively developed applications. -Allows you to produce very detailed reports to track my own activity and history. Which can also be used by management to track team progress and activity. -A customisable dashboard that allows frequently uses tabs to be populated to a "bookmarks bar" which allows for faster navigation. -Great search feature that allows for search across the entire CRM database.
Cons:
-Due to its high functionality and range of options it can be overbearing to use at times. -Requires internet connection which means there is occasional latency and is not accessible at all times. -Visually, it's not the most appealing tool that I've ever used. -Steep learning curve for those that have not used it before, but then that goes for most CRM tools.
Alternatives Considered: Dynamics 365 Business Central
Reasons for Choosing Salesforce Sales Cloud: Due to employment change when I moved companies.
Switched From: Dynamics 365 Business Central
Nagesh
Marketing analyst. in India
Marketing & Advertising, Self Employed
Used the Software for: Free Trial
"A Comprehensive CRM Solution for Your Business's Sales Needs"
Comments: Overall, I've had a great experience with Salesforce Sales Cloud. It provides a comprehensive suite of tools and features to help manage customer relationships and sales processes. The user interface is intuitive and easy to use, and the customer support is top-notch when I needed help. The pricing can be a bit steep for smaller businesses, but for larger businesses, the cost is well worth the investment.
Pros:
I liked how user-friendly the Salesforce Sales Cloud is. The dashboard is very intuitive and provides an easy way to access and manage customer data. It also provides a wide variety of tools and features that can be customized to fit the needs of any business, such as sales automation, lead management, and reporting capabilities. The customer support is also top-notch, providing helpful and knowledgeable guidance whenever I needed it.
Cons:
I found that the pricing can be a bit steep for smaller businesses, especially if they don't need all of the features the platform provides. Additionally, I found the learning curve to be a bit steep at first, as there are many features that can be overwhelming to understand. However, once I got the hang of it, I found it to be a great tool for managing my business's sales needs.
Alternatives Considered: Zoho CRM, Dynamics 365 and HubSpot CRM
Reasons for Switching to Salesforce Sales Cloud: We chose Salesforce Sales Cloud because of its robust feature set, user-friendly interface, and excellent customer support. It was the most comprehensive solution that met all of our needs, and the pricing was also very competitive. Additionally, the Salesforce platform is well-known and trusted in the industry, which gave us confidence that it was the right choice for our business.
Media Production
Used the Software for: 1-5 months
Source: SoftwareAdvice
Salesforce: Helps Improve Internal Communications/External Customer X
Pros:
I have been using, recommending and adopting salesforce.com for my sales teams for ten years in several different digital technology, media and advertising organizations. I can say unequivocally that the CRM software has evolved from being a supplement and "nice to have" to a must buy and necessary and vital tool for doing business. The key to any business solutions and software product is getting the team to adopt and use it. Training and practice is essential. Its like your golf game, the more you practice the better your score or working out, no pain, no gain. I like the social media and conversational abilities you can have with sales team; the app is excellent for quick reviews and checking on status of pending, pitches and prospects; the flexibility and customization options based o salesperson, account, deal size, industry vertical. In one organization we adopted it for internal sales data use and tracking and also incorporated product data about our partners, customers, audience metrics and analytics and distribution platform.
Cons:
Depending on the level of subscription, will also vary with the amount of personalized training you receive. I would also say there needs to be more attention and customization devoted to industry verticals that contain many nuances regarding customer segments and rev streams. This includes the advertising and digital sales industries where there are multiple customer touchpoints and rev streams including agencies, direct to client, programmatic, 3rd party vendors, ad tech partners etc. I also think saleforce.com needs to develop more compatible software and training that integrates salesforce,com into other software linked to finance, accounting etc.
Jamie
Chief Technical Officer in US
Computer Software, 11-50 Employees
Used the Software for: 2+ years
A Business Essential for Success
Pros:
Salesforce Sales Cloud product is an essential part of our day-to-day operations. Not only is it incredibly intuitive, but it also has so many options for customization to our business. I find that if I think of it, I can build it with Sales Cloud. There is always support if we run into any technical issues and training materials to aid in our implementation and learning processes. Overall, it's a great value for the money, especially when one considers that you can pay per license and pay significantly less than other products.
Cons:
Sometimes, we could get so impressed with what Sales Cloud could accomplish that we would get carried away and over build what could have been a simple solution. It's important to understand your business thoroughly and get familiar with the tools so as not to overbuild.
Alternatives Considered: Zendesk Sell and Zendesk Suite
Switched From: Zendesk Sell
Reasons for Switching to Salesforce Sales Cloud: The cost, reputation, and customization options made us trust Salesforce Sales Cloud most.
Bhushan
Marketing Communication Manager in India
Chemicals, 51-200 Employees
Used the Software for: 6-12 months
Best Sales management tool for all type of organizations
Comments: One of the best tool for sales data and pipeline management for small to big level of growing companies, salesforce provides customizations as per client requirements
Pros:
Easy to manage sales data and records at one place which helps us to track and monitor sales reports any time as well as dashboard
Cons:
sometimes it feel very boar to feel data and update it for salesperson or managers, so the company needs to hire a salesforce guy to manage it