What Is Procore?
Procore construction software manages your construction projects, resources and financials from planning to closeout. The platform connects every project contributor to solutions built specifically for the industry for the owner, the general contractor and the specialty contractor. The ability to communicate across teams makes it easier to work together by establishing a single source of truth. This is how Procore gives your team easy access to everything they need to know to get the job done.
Who Uses Procore?
Procore connects all members of your construction project teams -including owners, general contractors and subcontractors- from field to office.
Where can Procore be deployed?
Cloud, SaaS, Web-based, Android (Mobile), iPhone (Mobile), iPad (Mobile)
About the vendor
Procore Technologies
Located in Austin, US
Founded in 2001
Phone Support
24/7 (Live rep)
Chat
Languages
English, Portuguese, Spanish
About the vendor
Procore Technologies
Located in Austin, US
Founded in 2001
Phone Support
24/7 (Live rep)
Chat
Languages
English, Portuguese, Spanish
Procore videos and images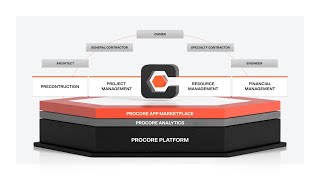 Compare Procore with similar products
Features of Procore
2D Drawing
Accounting Integration
Accounts Payable
Accounts Receivable
Bid Management
Billing & Invoicing
Budget Tracking/Job Costing
Budgeting/Forecasting
CRM
Change Order Management
Client Tracking
Collaboration Tools
Commenting/Notes
Compliance Management
Contact Management
Contract/License Management
Contractor Database
Contractor Management
Cost Database
Cost Estimating
Customer Management
Customizable Templates
Data Import/Export
Document Management
Document Storage
Electrical Estimating
Equipment Tracking
Estimating
File Sharing
For AEC Industry
Gantt/Timeline View
Historical Database
Incident Management
Inspection Management
Inventory Management
Invoice Management
Issue Tracking
Job Costing
Job Management
Job Scheduling
Mobile Access
Permit Management
Progress Reports
Project Accounting
Project Billing
Project Management
Project Scheduling
Project Tracking
Proposal Generation
Purchase Order Management
Qualification Tracking
Quotes/Estimates
RFI & Submittals
RFP Management
Real-time Updates
Reporting/Analytics
Residential
Sales Approval
Sales Pipeline Management
Staff Calendar
Status Tracking
Subcontractor Management
Takeoff
Task Management
Third Party Integrations
Time & Expense Tracking
Time Tracking
Timesheet Management
Vendor Management
Work Order Management
Ruth M.
Director in
Verified LinkedIn User
Design, 11-50 Employees
Used the Software for: 1-5 months
Source: GetApp
Excellent full-on project management software
Comments: This is a package aimed at construction professionals and provides a thorough means of managing multiple projects across multiple people and teams including architects, designers, and subcontractors. It is a significant investment not a simple free app, and needs to be approached as such. The implementation is pretty straightforward and the customer support excellent.here remain some annoying features, but the support team are responsive and it is clear that significant investment if still being made into improving the software.
Pros:
Much better than the competition at managing a range of projects across the things you need in construction - RFI,s , punch/snag list (we use this for internal "to do" items) and critically the main contract variations- this is a bit clunky but REALLY effective when you get the hang of it - meetings recording is again a trifle clunky but very effective so I forgive it For the first time in 15 years I have proper oversight across all projects (typically around 40-60) and can manage the progress of each from my iPad wherever I am. Site logging app very powerful Clients love the visibility Document handling with version control is brilliant
Cons:
The only really annoying feature is that the company level information (ie visibility across projects, personal "open items" lists and financials) is only available on the browser version not the app. The directory and permissions systems are well intentioned but actually you have to subvert them a bit as to do anything useful people really need full admin rights (even to add a contact to a directory- if this is to be used as the main shared company contacts directory we need everyone to be able to do that). I am happy to give my people that, but I can imagine a lot of companies where you don't want all your staff to have access to budgets and financials. It is expensive- we think it a great investment at this time, but it is nonetheless expensive. if you are looking for a cheap app this is not the one for you. The us-centric language and set up is a minor irritation- the partial attempt at making it Anglophile (changing a few of the function names) is actually worse than useless as the changes just confuse people- the training videos refer to the US terms for things and you can get used to pretty fast, but then they are not called that on your screen. I would love to be able to customise some of the standard PDF outputs Drawings handling a bit clunky, particularly markups- brilliant idea and conception but difficult to use as you can't undo markups once you have done them which makes people risk averse in case they cock it up- I am confident this will improve
Lori R.
Project Administrator in US
Construction, 2-10 Employees
Used the Software for: 1-5 months
Source: SoftwareAdvice
Alternatives Considered:
Procore for Construction
Comments: While I have used it for many years, my client is new to it, so more to come....
Pros:
I like that all data is in one place and easy to access. We can set up workflows to automate tasks. We can allow our clients limited access to thier project.
Cons:
Software is pricey, although it does deliver. It would be nice to have it accessible to more smaller companies by reducing cost. Sometimes it can be a learning curve for new users depending on what tools they are using, however with the 10+++ support and great tutorials, most pick it up quickly.
Tom J.
Document Controller in UK
Construction, 201-500 Employees
Used the Software for: 1-5 months
Great collaboration tool
Pros:
Dashboard makes navigation very straight forward. Easy to search for & download releavnt documents
Cons:
More quick links in a side bar on login screen
Jason G.
President in Canada
Computer Software, 2-10 Employees
Used the Software for: 2+ years
Great software if you are looking to improve your construction business and gain better insights
Pros:
Procore allows better insights into your projects. This enables you to deep dive into problem areas and quickly make decisions on how to correct. You can plan better across your entire organization, rather than looking at project by project issues.
Cons:
It's quite expensive. If you are not getting the value out of the system you are paying for, you could mistakenly turn your back on it. Best bet is to figure out how to gain the biggest ROI out of Procore, even if that means hiring a Procore Certified Consultant to help.
Amira D.
Site Architect in Jordan
Construction, 1,001-5,000 Employees
Used the Software for: 2+ years
Ensure the successful management of contracting projects and perfect organization of project data
Comments: Procore has provided us with great flexibility in managing the project, and we have eliminated many of the mistakes that we were making previously when preparing the various submission tables in the project. With Procore, you can, with simple steps, filter Shop drawings Logs or RFI's Logs, for example, and know the status of the topic that Looking for it and following it up with other members by sending them notifications. Indeed, it simplifies many procedures and keeps all tasks and project activities under constant follow-up.
Pros:
What I like most about Procore is the perfect organization that it provides for all documents, reports, and communications of project members on the cloud, which enables all team members and stakeholders to be kept up-to-date and informed of everything that is going on with the project. I appreciate how providing all project management tools in one place simplifies the procedures and saves a lot of time, as most of the outstanding issues are resolved directly, as all concerned will have knowledge of the matter and will communicate with each other to implement the appropriate solution. I love the reports that are prepared by Procore, as they cover all project management functions and show in a modern format that includes graphs and tables the general status of the project's business and completion percentages and also cover all financial aspects and much more. I appreciate that Procore acts as a database that includes all project correspondence, drawings, reports and material delivery requests, and through several logs that show the dates of submission and response, you can know the status of each request or scheme with ease.
Cons:
Procore is ideal for contracting projects, and I don't think there are any negative things or technical problems, as it is connected to the cloud and has an amazing interface, it depends only on the work team and their cooperation by taking advantage of all the wonderful tools available in Procore.