Who Uses Deskera All-In-One?
Small businesses or startups looking for an affordable tool to manage accounting, inventory, order fulfilment, CRM, Support ticketing, Knowledge-base, Payroll, HR with multiple integrations.
What Is Deskera All-In-One?
Deskera gives you everything you need to run your business right out of the box. Invoicing, bank connections, accounting, inventory, order fulfilment, online payments, financial reports with local tax reporting. Build deals & pipelines, segmented marketing campaigns, knowledge-base, support ticketing. Run unlimited payroll as per local regulations, view payslips, download W-2, W-4, 1099s, apply for vacation, scan expenses AND an ALL-IN-ONE Dashboard like no other!
Deskera All-In-One Details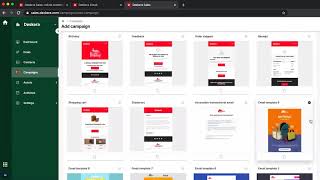 Play
Deskera All-In-One pricing overview
Deskera All-In-One offers a free trial. Deskera All-In-One paid version starts at US$149.00/year.
---
Pricing Details
Deskera is offered across two pricing plans, outlined below. A 15-day free trial is available. Professional: $149 per user per year Enterprise: Please contact Deskera directly for pricing information
Deskera All-In-One deployment and support
Support
Email/Help Desk
FAQs/Forum
Knowledge Base
Phone Support
Deployment
Cloud, SaaS, Web-based
Windows (On-Premise)
Linux (On-Premise)
Android (Mobile)
iPhone (Mobile)
iPad (Mobile)
Deskera All-In-One Features
API
Accounting
Accounting Integration
Activity Dashboard
Bank Reconciliation
Barcode / Ticket Scanning
Billing & Invoicing
Bills of Material
CRM
Contract/License Management
Customer Database
Customizable Reports
Distribution Management
Document Management
Enterprise Asset Management
Expense Tracking
Financial Analysis
Financial Management
Forecasting
General Ledger
HR Management
Integrated Business Operations
Inventory Management
Inventory Tracking
Invoice Management
Invoice Processing
Manufacturing Planning
Multi-Currency
Multi-Location
Order Management
Order Processing
Payroll Management
Project Management
Projections
Purchase Order Management
Quotes/Estimates
Real Time Data
Real Time Reporting
Reporting & Statistics
Reporting/Analytics
Sales Orders
Shipping Management
Stock Management
Supplier Management
Supply Chain Management
Task Management
Third Party Integrations
Time & Expense Tracking
Warehouse Management
Workflow Management
---
Review software
Share your experiences with other software buyers.
Write a Review!
Alban T.
General Manager
Computer Networking, 11-50 Employees
Used the Software for: 1-5 months
Overall Rating

Ease of Use

Features & Functionality

Customer Support

Value for Money

Likelihood to Recommend
Reviewer Source

Reviewed on 10/11/2020
"An excellent (and more complete) alternative to Xero"
Comments: My main issue of the past 2 years was to use an invoicing system and a separate bank reconciliation system because none other did support my bank.
Another issue I had was providing a convenient way for external consultants to fill their timesheets and expenses.
Deskera solves this and brings tons of other features on the table.
Pros: I've struggled to find a full-featured SaaS that would interface with my bank. Only Xero did, all the others didn't support it. Until Deskera, that is.
As Xero's bills and invoice system is rather cumbersome, I used something else for invoicing and had to manually match payments to invoices, which was taking me hours every month.
Now everything is integrated, and I have a whole bunch of other features (HR, Inventory management, CRM...) for a complete solution.
I just love it. Plus, it has an auto-import function from Xero, so the transition was much easier than I thought.
Oh, and as a cherry on the cake, the support team is great and reactive.
Cons: As it's a very feature-full solution, it can be overwhelming at times. It's not just fire and forget, you do have some configuration to do, which honestly can be a bit complicated if you're not used to this kind of software.
And if you're migrating from solutions others than Xero or QuickBooks you might need some support.
Reviewer Source

Reviewed on 10/11/2020
Proinsias M.
Owner Manager
Design, Self Employed
Used the Software for: 1-5 months
Overall Rating

Ease of Use

Features & Functionality

Customer Support

Value for Money

Likelihood to Recommend
Reviewer Source

Reviewed on 01/12/2020
"All in One Product for the small business in need of Financial Reports and a CRM and more"
Comments: I am pretty OK with software packages, but it was really easy to setup and configure. And I like the ability to customise the Quotes and Invoices. The UI and the UX is very good, and I do not feel myself using the word "Clunky"/. Also, the colours are nice and make me feel happy, even if I am doing boring stuff like accounts.
Pros: Hi, I only really got this for the invoicing system. I am a sole trader. I had been using Wave and they and now just focusing on the US and Canada Market. Deskera came at the right time. For me it is the Quotations and the invoicing and the accounting. That alone to me is worth the cost. And I can also give access to my accountant if they need to validate my returns. I also have a Sales and Purchasing dashboard that will bring me up a level so I can better understand my business. I had applied for a bank loan, and I was asked for management accounts, and to be honest I just had a bank statement with a basic spreadsheet. This will now give me better insights into my weekly financial status. Also, I can also see my Sales funnel all in one view . Just having that for my Bank Manger will make me more professional. Also it links in with the CRM with a mailing function. Just in those two modules you can replace at least 4 to 6 separate software apps. You can communicate from the app and have a mail list. You may want to consider extra codes if you want a larger mail list. There is only one employee, me, but if I am lucky I will be able to manage part-time staff and their payroll as well as my payroll. That again is another Bonus. Hopefully there will be a Client POrtal on the roadmap but to be honest th
Cons: I am missing a Client Portal but I am sure that will come in time. But that is something that I can manage on my wordpress site. Also, the EU GDPR compliance is nearly there, and I am sure that will happen in due course. I was listening to a seminar online and I am happy to know that they are nearly there.
Reviewer Source

Reviewed on 01/12/2020
Alex P.
Director
Media Production, 2-10 Employees
Used the Software for: 1-5 months
Overall Rating

Ease of Use

Features & Functionality

Customer Support

Value for Money

Likelihood to Recommend
Reviewer Source

Reviewed on 29/01/2021
"Promising multi-purpose software for running a business"
Comments: My initial impression is that Deskera offers a solid option right now, especially for a smaller business which is eager to avoid paying for multiple SAAS tools or bring everything into one workflow. The real question is: what are you comparing this to? If you are starting a business from scratch, Deskera is an exceptional deal. And if you already use single-purpose SAAS tools that you are happy with, it might still be worth going for Deskera merely to streamline your business processes. Just be clear with yourself about which features are deal-breakers and hope that Deskera continues to improve at its present trajectory. This is entirely possible and I certainly wish them luck. It's worth noting that I have not had the opportunity to use many of the features in Deskera because UK compliance and UK bank-feeds are not ready. This made it pointless to fully migrate my business but I'm told by the Deskera support team that these will happen shortly. Once that is done, I will update this review.
Pros: Deskera is a surprisingly comprehensive suite of business management tools. It delivers these in a fairly clean style, without ever feeling like the whole thing is descending into bloatware. This provides solid value for the smaller business eager to avoid paying multiple SAAS subscriptions and it provides a simple way to consolidate multiple features, such as CRM or book-keeping etc. You get a lot of bang for your buck.
Cons: While each tool in Deskera offers a credible array of features, they do have clear limitations compared to specialist software for each category of software. It's unfair to measure Deskera directly against enterprise-grade rivals such as SalesForce but you don't get the depth of features of the more affordable single-purpose apps such as Xero (i.e. accounts) and Capsule (i.e. CRM), nor the all-in-one marketing suites (e.g. ActiveCampaign). That could well change over time.
Reviewer Source

Reviewed on 29/01/2021
Rangel M.
Director, Finance
Design, 2-10 Employees
Used the Software for: 1-5 months
Overall Rating

Ease of Use

Features & Functionality

Customer Support

Value for Money

Likelihood to Recommend
Reviewer Source

Reviewed on 18/12/2020
"Outstanding All-in-One Solution for Small Business"
Comments: I was simply an accounting software guy at the time. Prepared to sign up for Quickbooks. I was surprised to see that everything looked pleasantly clean and nice while onboarding. The good surprise was to see Deskera's other characteristics and additional modules such as the webpage builder. It has also an email templates for email campaigns to make the suite of application a must have package. The technical support is beyond anything else I've experienced, including a very supportive Facebook group that doesn't give me the feeling that after the sale is done, it's going anywhere. This makes me feel better about my acquisition.
Pros: 1. Outstanding support
2. Easy to use interface
3. Feature rich mobile application
4. Regular improvements and hot fix
5. Pleasing UI
6. All solutions required for a small and medium size business to operate is included in the suite of applications.
7. Pricing
Cons: I would love to see contract management and digital signatures plus more store integrations, but these are on the roadmap and next year it seems they will be available. Some additional improvements to strengthen the UI/UI by minimizing navigation clicks and page transitions can be implemented.
Reviewer Source

Reviewed on 18/12/2020
Keshav M.
founder
Management Consulting, 2-10 Employees
Used the Software for: 1-5 months
Overall Rating

Ease of Use

Features & Functionality

Customer Support

Value for Money

Likelihood to Recommend
Reviewer Source

Reviewed on 01/12/2020
"one stop solution for accounting, CRM & HR needs for any business"
Comments: I have been using Zoho books for more than 2 years now and was very scared to switch.
I on a trial used deskera for almost a month and the learning curve have been awesome. I was so happy that I immediately purchased a code and also considering to upgrade it even.
This tool has a huge potential and I am still enjoying that [SENSITIVE CONTENT HIDDEN] are active and ready to support.
I purchased it for a manufacturing business and am really loving the option and features it has. I have full faith that this product will be my one-stop solution for accounting & HR needs (payroll for now). I wish that this product reach its full potential and we also grow with it.
Pros: 1) easy to use
2) Faster learning curve
3) Awesome community
4) phenomenal customer support
5) equipped with modern marketing and management techniques including automation.
6) ERP features are amazing
7) Best mobile app to use and access data.
Cons: There is hardly any con as company resolves the issues so fast that it's not a con.
every business has different need and software is so versatile that I adopt most of them, If few are left, then it could be a con, but team listens and finds a solution very fast.
Reviewer Source

Reviewed on 01/12/2020