Who Uses NeeyamoWorks EmployeeHub?
NeeyamoWorks is an industry-agnostic company that specializes in providing global products with localized configurations. We are specially designed to cater regions like EMEA, Asia-pacific and LATAM.
What Is NeeyamoWorks EmployeeHub?
Employee data sits at the centre of all HR processes and applications. It is therefore essential that HR departments are exposed to employee data which is highly accurate and maintained with utmost integrity. NeeyamoWorks Employee Hub helps centralize and manage information of your current employees, former employees and applicants through a single interface. The centralized database can be seamlessly integrated with any of the HR systems and is designed to improve employee experience as well a
NeeyamoWorks EmployeeHub Details
NeeyamoWorks EmployeeHub Pricing Overview
NeeyamoWorks EmployeeHub does not have a free version and does not offer a free trial.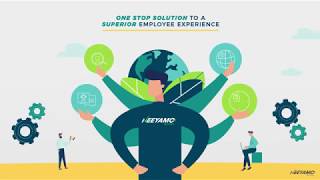 Play
NeeyamoWorks EmployeeHub Features
360 Degree Feedback
Applicant Tracking
Benefits Management
Compensation Management
Employee Database
Employee Profiles
Onboarding
Payroll Management
Performance Management
Recruitment Management
Self Service Portal
Time & Attendance Management
Time Off Management
Compensation Management
Competency Management
Employee Lifecycle Management
Goal Setting
Individual Development Plans
Onboarding
Performance Management
Recruitment Management
Succession Planning
Training Management
Budgeting/Forecasting
Contractor Management
Employee Lifecycle Management
Employee Scheduling
Labor Forecasting
Performance Metrics
Recruitment Management
Skills Tracking
Time & Attendance Management
Variable Workforce