What Is SEO Tester Online?
SEO Tester Online is the all-in-one platform that helps marketers, businesses, e-commerce and web agencies in 45 countries around the world to monitor and improve the organic visibility of their website or that of their customers, thanks to innovative tools and guided, designed for SEO and web marketing. With SEO Tester Online you can generate leads, work on the technical optimization of your website, search and organize keyword lists and create SEO-friendly articles in the blink of an eye.
Who Uses SEO Tester Online?
SEO Tester Online is a suite designed to empower multilingual SEO (with over 1.4 Billion Keywords) and Web Marketing activities so everyone in the world can use the platform.
Where can SEO Tester Online be deployed?
Cloud-based
On-premise
---
SEO Tester Online support
Languages
English, Italian, Spanish
SEO Tester Online support
Languages
English, Italian, Spanish
SEO Tester Online videos and images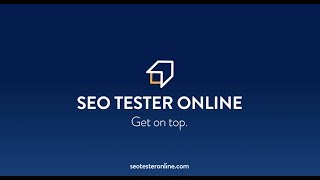 Compare SEO Tester Online with similar products
Features of SEO Tester Online
Alerts/Notifications
Audit Management
Backlink Monitoring
Competitive Analysis
Content Management
Customizable Templates
Dashboard
Data Import/Export
Data Visualization
Keyword Rank Tracking
Keyword Research Tools
Keyword Tracking
Link Management
Multi-Channel Campaigns
Performance Metrics
Reporting & Statistics
SEO Management
Web Traffic Reporting
Website Analytics
SEO Tester Online Alternatives
Reviews of SEO Tester Online
Philip
CEO in Sweden
Verified LinkedIn User
Design, 2-10 Employees
Used the Software for: 2+ years
Alternatives Considered:
Great and SEO tool
Comments: It helps me analyze my websites, but also look at competitors, and their score. Also gives me data on search volumes so I know what kind of headings and content I should write to improve my site.
Pros:
Seotesteronline is a good SEO tool with several good tools in one! I often use "Seo checker", which allows me to analyze any web page in depth and give me solid tips on what needs to be improved or missing to rank higher. "Keyword Explorer" is also very well built, to find out what the search volume looks like, and examples of related searches that are done. Recommends SEO Tests Online to everyone, a solid and stable product for a great price!
Cons:
Nothing, solid and stable tool so far! Clean UX and great mix of tools to use.
Praveen
Managing Director in India
Information Technology & Services, 2-10 Employees
Used the Software for: 1+ year
Alternatives Considered:
My favorite SEO tool
Comments: Its cost effective and easy to use.. i just love it... oveal i would rate 10/10 :)
Pros:
SEO Spider and SEO Checker is the berst tool i would say for any SEO Experts.. We started doing SEO for clients for past one year and SEO Tester helps us a lot to fix things up.. Even yesterday we have completed an onpage seo for an australian client.. before starting it has a score of 35/100 and whe have reached 85/100 score in couple of days after doing SEO and we still working to get 90+ score.. The point is SEO tester helps the site to Rank if its properly used.. its an powerfoll tool and huge features on it.. We also the recent update on the Keyword Explorer Tool is awesome.. SEO Editor and Copy Metrics also good.. Fixing page wise and then the wole website optimizing makes this tool soo awesome.. Its cost effective and easy to use.. More important it gives huge explanation and in a easy way how to do each one with proper solution :) One important thing is the White Label for Report and Lead Genration tool its one among the best feature..
Cons:
Everything is perfect.. one thing i always want the tool to have is Keryword Ranking and identifying backlinks
Fernando
Freelancer in Mexico
Marketing & Advertising, Self Employed
Used the Software for: 6-12 months
Alternatives Considered:
Very simple platform
Comments: I have purchased this platform on sale in pitchground and for almost a year I have not seen improvements, they have a great RoadMap but they have not implemented anything published on it.
Pros:
It is an all-in-one tool, it allows to carry out web audits, keyword analysis, analyze the objective of the text, attract leads.
Cons:
SEO audit is the most complete part of this platform, but the information obtained is very basic (I couldn't replace Screamingfrog) The analysis of keywords has not helped me, the information it provides is from Google trends. (I couldn't replace KWfinder)
Chris
Business owner in Australia
Information Technology & Services, Self Employed
Used the Software for: 6-12 months
So easy to use!
Comments: Perfect for my purposes and is a must have tool to stay on to of a constantly changing environment online.
Pros:
The best feature about SEO tester online is the speed and ease of use. I use it to monitor and audit all my websites each month. This is particularly useful when you have a portfolio of websites and want to get a good overview of their health and optimization. The detail is perfect for my needs and has even helped me land a few jobs with new clients (although not my primary purpose for the software). Definitely one of the main software's in my tool box that is used regularly.
Cons:
At first the learning curve of the reports were a bit daunting to learn. There was so much detail, however once I was familiar with the terminology and layout the amount of info was perfect. The reports could also look a bit nicer as I have cleaned them up for when presenting to clients (but for my purposes they are great).
Govind
CEO & Founder in Nepal
Verified LinkedIn User
Computer Software, 2-10 Employees
Used the Software for: 1+ year
SEO Tools with potential but still not there
Pros:
The reason I bought the LTD was because of the lead generation tool which saves a lot of money. The tools work well there were initial glitches which ones reported were fixed. The other thing I love about this tool is the SEO Editor a handy tool if you need to write an article with all the basic on-page optimization in mind. I have had success in ranking an article or two which I used with the help of it.
Cons:
There are a lot of features that need to be added however the size of the team is small and then we have had this Corona Pandemic which has killed all the fun There are bugs that needs to be fixed, too Support seems to be slow again which is due to the team size and the pandemic.