What Is Hevo?
Hevo is a no-code, bi-directional data pipeline platform specially built for modern ETL, ELT, and Reverse ETL Needs. It helps data teams streamline and automate org-wide data flows that result in a saving of ~10 hours of engineering time/week and 10x faster reporting, analytics, and decision making.
The platform supports 150+ ready-to-use integrations across SaaS Applications, Databases, Cloud Storage, SDKs, and Streaming Services.
Who Uses Hevo?
Over 500 data-driven companies spread across 35+ countries trust Hevo for their data integration needs. Try Hevo today and get your fully managed data pipelines up and running in just a few minutes.
Where can Hevo be deployed?
Cloud, SaaS, Web-based
About the vendor
Hevo Data
Located in San Francisco, US
Founded in 2016
24/7 (Live rep)
Chat
Hevo pricing
Starting Price:
Not provided by vendor
Yes, has free trial
Yes, has free version
Hevo has a free version and offers a free trial. Hevo paid version starts at N/A.
Pricing plans
get a free trial
About the vendor
Hevo Data
Located in San Francisco, US
Founded in 2016
24/7 (Live rep)
Chat
Hevo videos and images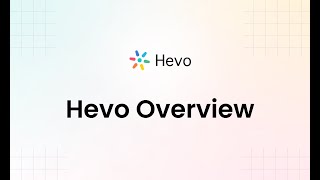 Features of Hevo
API
Alerts/Notifications
Auto Extraction
Customer Database
Customer Journey Mapping
Dashboard
Data Aggregation and Publishing
Data Analysis Tools
Data Capture and Transfer
Data Cleansing
Data Connectors
Data Extraction
Data Import/Export
Data Integration
Data Management
Data Mapping
Data Migration
Data Quality Control
Data Security
Data Storage Management
Data Synchronization
Data Warehouse Software
ETL - Extract / Transfer / Load
ETL Tools
Integration Management
Integrations Management
Multi-Channel Attribution
Multi-Channel Data Collection
Multiple Data Sources
Query Builder
ROI Tracking
Reporting/Analytics
Search/Filter
Website Analytics
James Q
Director of Digital Marketing in US
Verified LinkedIn User
Financial Services, 2-10 Employees
Used the Software for: Free Trial
Excellent Data Pipeline
Comments: It was very easy to sign up and set up Facebook to BigQuery. The user UI is easy to use and step-by-step instructions are included. You don't need a dev to get things moving as long as you're passingly familiar with Facebook and BigQuery and can read directions.
Pros:
I used Hevo to pipeline data from Facebook into Big Query. The service worked as expected and properly transferred my data. It was one of several services I evaluated for our data pipeline needs.
Cons:
I had some integration needs that HEVO did not include, so I had to go with another provider who included those. Otherwise, HEVO was amongst my top choices.
Ben
VP of SWE and Data in US
Consumer Electronics, 11-50 Employees
Used the Software for: Free Trial
Hevo Data saved us
Pros:
Hevo Data saved our company in more ways than one. For the bi-directional Hubspot features alone, this tool is worth the cost for us, hands-down. We were able to pull all of our Hubspot data into our data warehouse, annotate, and push back to custom properties and objects. The tool worked so well, we began using it as the core ETL connector for our data lake, and are testing as our scheduled task manager for the core transformations for our data warehouse. The pricing model has worked out well for us. The free trial to prototype how the thing works, and how we could be efficient with our usage of connectors, has also been wonderful.
Cons:
THe list of connectors is really good, but not 100% where we wish. In addition, migrations from one tool to another (e.g. Intercom -> Hubspot) require us to do a bunch of manual mapping that is hard; other tools have these mappings canned and are therefore easier to use for that use-case.
Alternatives Considered: Zapier and Help Desk Migration
Reasons for Choosing Hevo: This tool is much more powerful, cost-effective and aligned with our needs.
Switched From: Zapier
Reasons for Switching to Hevo: We are using Hevo Data in conjunction with Help Desk Migration, which does the mapping we need for us.
Verified Reviewer
Data Engineer in Australia
Verified LinkedIn User
Information Technology & Services, 51-200 Employees
Used the Software for: 1-5 months
Good Product
Pros:
I really like the ease with which you can deploy the tool
Cons:
The tool can get better in documentation and video tutorials.
Brent
Director of Data Management in US
Verified LinkedIn User
Financial Services, 51-200 Employees
Used the Software for: 1-5 months
Hevo data for Extraction and Loading to Snowflake
Comments: Very Pleasing. I set it up once and I don't have to worry about it again.
Pros:
Simple and effective hassle free table syncing between Cloud VM SQL Server and Snowflake DWH.
Cons:
Getting Hevo white listed with other vendors such as FTP sites is the first big hurdle. Sometimes I'd like to have it sync a view from my source system but it struggles with this. Instead I make it sync the source tables of the view.
Alternatives Considered: Fivetran
Reasons for Switching to Hevo: Simple ease of use. It does what it says it does.
Verified Reviewer
Data and Analytics Manager in Brazil
Verified LinkedIn User
Financial Services, 51-200 Employees
Used the Software for: 6-12 months
The best Data Extraction service for Startups
Comments: Hevo was the ideal tool that I needed to bootstrap our data infrastructure. As the person who set everything up I am very satisfied with them and hope that this will be a long partnership.
Pros:
Hevo is very easy to set up (the whole process is self explanatory) and has a lot of integrations. It also allows for a lot of flexibility with Rest API and Webhook integrations. The UI is very well tought out and the whole product feels professional. I should also point out the Consumer Service, which is great and very helpfull. I get answers every time I talk to them, and I feel my problems are being taken seriously.
Cons:
Hevo doesn't allow precise control of the Ingestion and Loading frequency and times. You can only choose a frequency or specify certain times, but even this one is limited to a certain number of runs. This is our only limitation with Hevo right now.