What Is HelloBox?
Users are 80% more likely to get in touch with you, when they can use a channel, they already use (according to Entrepreneur.com). HelloBox adds an omnichannel contact widget to every single page of your website.
To reach the most people as effectively as possible, HelloBox provides a wide range of communication channels to let visitors choose the medium they feel most comfortable with.
Our mission is it to make it easier for your website visitors to get the help they want and need.
Who Uses HelloBox?
HelloBox is best for all people who are their own brand ambassador. We see especially a high-potent for: - Real Estate Agents - Coaches and Trainer - Local Business Owners
Where can HelloBox be deployed?
Cloud, SaaS, Web-based
About the vendor
PixelHub
Founded in 2018
Chat
Countries available
Spain
Languages
Not provided by vendor
About the vendor
PixelHub
Founded in 2018
Chat
Countries available
Spain
Languages
Not provided by vendor
HelloBox videos and images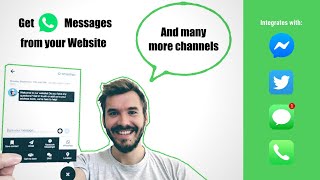 Compare HelloBox with similar products
Features of HelloBox
Auto-Responders
Customizable Branding
Mobile Access
Offline Form
Proactive Chat
Reporting/Analytics
Nicholas I.
Owner, Designer, Marketer in US
Verified LinkedIn User
Graphic Design, Self Employed
Used the Software for: 6-12 months
Great product, just not for my business
Comments: HelloBox is a great product, and I would have continued to use it if I just needed my customers to contact me directly or fill out a form to have me contact them at a later date. It just so happens that I need an active 24/7 bot to greet my customers, take down information, transfer it to my CRM, and also schedule appointments right there in the chat. HelloBox is a great solution for people who want multiple channels to chat with their customers on all packaged together, however beyond that I'd go with somethign else. Hellobox could have done everything I needed it to do, however, I wasn't interested in it enough to continue with the product.
Pros:
I liked the vast array of channels to contact the business and you get to choose which channels are turned on and off.
Cons:
The size of the widget when it was fully expanded. It was a lot to take in sometimes if you had a lot of channels available for contact. Also, I think the more channels to communicate with your customer is a good thing, maybe like 3 to 4 should be limited to the widget. It gets too crowded on there.
PixelHub Response
3 years ago
Thanks Nicholas for your honest words, we'll take it into account for the next iterration.
Marylou M.
Project Manager in Mexico
Real Estate, 201-500 Employees
Used the Software for: 1+ year
Great product, bad service
Comments: I like the software, but it's risky. Considerate this before buying it. Also, if you know another software please let me know!
Pros:
Its a great software overall. But I believe they need more people to assist the clients they already have.
Cons:
Since my company has a lot of clients, things come up and in digital we need to act quickly. Here with hellobox is my only provider where I have problems to change simply things as: - account settings - get the bills to a new email My clients are upset because we cannot provide them bills for a service, which is a very bad image for the company.
Nina K.
Webdesigner in France
Design, Self Employed
Used the Software for: 1-5 months
Contact widget for your website
Comments: The widget is extremely easy to set up, it supports most social media and traditional channels, there are quite a few options available, and the customer support is great!
I recommend this widget for professional websites.
Pros:
These are nice features that I didn't find in other contact widgets: - Number of integrations (10 channels available) - Great customization options (picture, badge) - QR code generation for SMS - Option to display business hours - Free trial for one month - Amazing customer support
Cons:
These are my suggestions to improve the widget further: - Enhance widget position options (currently left or right, no custom positioning) - Would love a "simpler" version with a minimalist design (the current version looks very professional - not suitable for personal or quirky landing pages) - Translation (FR) is not perfect - Add option to display time in 24h format and date as day dd mm - Reduce loading time (currently 5 sec) - Add option to customize the apparition of the widget (event trigger, timer, animation effect.) - No need to enter credit card info to get free trial
Stephen R.
Marketing in UK
Verified LinkedIn User
Civil Engineering, 51-200 Employees
Used the Software for: 6-12 months
Fantastic
Comments: Positive. Increased contact and easy to use.
Pros:
HelloBox allows our customers to get in touch with us fast and in a way that they prefer rather than relying on just email or phone. It offers all the options right on the page so it's easy for users to locate.
Cons:
I have nothing negative to say about it. Works perfect.
PixelHub Response
3 years ago
Hey Stephen, we appreciate your great feedback. Thanks a lot
Michael H.
Geschäftsführer | IT Sicherheits & Datenschutz-Experte in Germany
Verified LinkedIn User
Information Technology & Services, 11-50 Employees
Used the Software for: 1+ year
Great product to put all your social contacts options in one place
Pros:
Easy to use and great design. I personally love, that I don't have to run a live chat software and can use the channels I already use. With WhatsApp integration on my homepage, I get quite a lot new leads just from that channel. Thanks to the Team of HelloBox 🙌
Cons:
Nothing so far. Maybe it would be great to integrate more with WhatsApp, so that I can send Newsletter or updates to all my contacts.