Factorial
What Is Factorial?
Factorial is a powerful human resources software that employees love almost as much as HR does. With a simple, intuitive interface, Factorial streamlines HR processes at every stage of the employee
Read more
life cycle. Making recruitment, onboarding, time tracking, time-off management, and performance reviews easy. HR managers have enough to do! Make admin more efficient so you can concentrate on the things that really matter.
Read less
Who Uses Factorial?
Factorial specializes in helping small- and medium-sized businesses.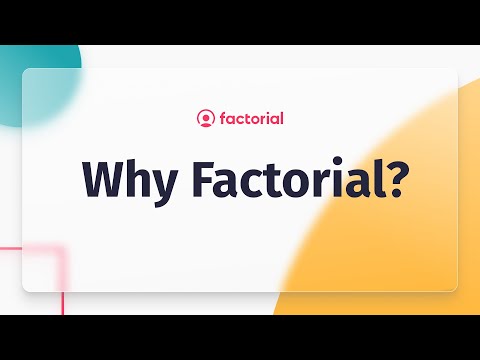 Not sure about Factorial? Compare with a popular alternative
Not available in your country
Víctor
Customer success lead in Spain
Verified LinkedIn User
Human Resources, 501-1,000 Employees
Used the Software for: 6-12 months
It was not good for a large organization
Pros:
To be honest, they have improved a lot since the last time I used the platform. Probably the part I liked the most was the Employee profile
Cons:
The platform was not very estable when you have too many employees on it. But I used few years ago, I am sure that they have fixed a lot of the old issues
Daniele
ICT Infrastructure Specialist in Italy
Real Estate, 501-1,000 Employees
Used the Software for: 1-5 months
All rounded and good HR system
Comments: overall it's the best HR system we had so far, and i would recomend it to anyone who don't know how to manage his employees
Pros:
From the customer side the tool is very easy to use, the interface guide the operations needed to do and it can also be used to create companies surveys
Cons:
the surveys could be more fine tuned, currently the feature is a nice to have but should be improved to be more scalable
Education Management, 1,001-5,000 Employees
Used the Software for: 6-12 months
Review
Pros:
A great and easy tool for clocking in and out. Plus you can find all the employees info, great calendar and you can keep track of all you previous timings. Plus I love the fact that it stores all your company documents such as payrolls. This way I can find them whenever I want without requesting them from HR
Cons:
The mobile version bugs sometimes when using the slider to clock in or out
Lotte
Senior Technical Project Manager in Qatar
Mechanical or Industrial Engineering, 10,000+ Employees
Used the Software for: 1-5 months
Easy Staff Managment Through Factorial
Comments: As of now, the Factorial Application is running smoothly and meeting all desired expectations in my business unit. Staff is much pleased with the software as they no longer need to visit my office to submit their leave forms physically as the application enables them to request these through the system. Likewise, never missed my tasks and not had any arguments with my subordinates with regard to their day-offs. All the above achievements emerged thanks to Factorial Software. You will never regret owning this software because this will help to save your human assets in the company.
Pros:
One of the best aspects of the Factorial app is its handy Dashboard. This provides a great helicopter view to senior staff with regard to identifying many activities such as upcoming events, pending tasks, upcoming holidays, and community posts. The Dashboard is in blocked shape with enlarged text, which helps users to quickly capture the eyes of the user without missing any activity! Furthermore, the users can easily install many user-friendly applications that integrate with Factorial through a few clicks. Some of the great features you can enjoy using these apps are Goals, reviews, surveys, training and etc. Another superb plus point is users can integrate the mailboxes, including outlook. If somebody thinks this is an exaggeration; I must tell you that you should try their free version before purchasing this! You will surely be mesmerized by your output!
Cons:
So far, I did not experience any issues, since I have been using limited features yet but there are many other areas to capitalize on. There are abundant capabilities this App has but I am yet to experience any misbehaves of this app. In a nutshell, there are literally zero issues for me as of now!
Denisse
HR Specialist in Spain
Marketing & Advertising, 51-200 Employees
Used the Software for: 1+ year
Factorial for our changing process
Comments: We use to make the payrolls with a company and for me this process was terrible, was that time of the month when i really not wanted to be on. Now all this process is really easy and the communication with payroll staff is vry clear and fluid so any doubt it´s solved at the moment.
Pros:
What we like the most was how easy is understand the platform and used. There´s no one who can not be able to find what they need or registered in the platform. How easily is complete the payroll process and how attent are the payroll staff. That i can use the platform for more than just one use, as example: payroll, recruitment, as documentary, to share documents with the employees, etc...
Cons:
What i like least is that in the lead product that i think is the payroll i mis some usabilities as do changes directly in the payroll when are ready, like last minute changes that make the process return to scratch. Will be more easy if i can do it online. I really miss create differents document folders. I think that right now you have it but it´s a differente package.