What Is Zendesk?
Zendesk is the only complete customer service solution, that is both easy to use and scales with your business. On average, companies using Zendesk increase customer satisfaction by 25% and agent productivity by 30% - at any scale. All your customer interactions live in a single, dynamic interface with features like web widgets, pre-defined ticket responses, and a full customer history. Get up and running quickly, and expect to see results even faster.
Who Uses Zendesk?
Over 160,000 companies rely on Zendesk's customer service solution to build the best customer experience. Our software is powerful and flexible, and scales to meet the needs of any business.
Where can Zendesk be deployed?
Cloud, SaaS, Web-based, Android (Mobile), iPhone (Mobile), iPad (Mobile)
About the vendor
by Zendesk
Located in San Francisco, US
Founded in 2007
Phone Support
24/7 (Live rep)
Chat
Zendesk pricing
Starting Price:
US$19.00/month
Yes, has free trial
No free version
Zendesk does not have a free version but does offer a free trial. Zendesk paid version starts at US$19.00/month.
Pricing plans
get a free trial
About the vendor
by Zendesk
Located in San Francisco, US
Founded in 2007
Phone Support
24/7 (Live rep)
Chat
Zendesk videos and images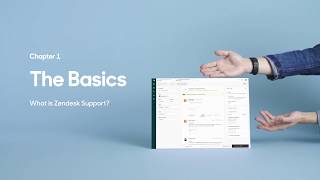 Ernesto M.
Cx Automations Analyst in Peru
Verified LinkedIn User
Information Technology & Services, 201-500 Employees
Used the Software for: 2+ years
The most complete CRM nowadays
Pros:
It letted us build solutions from the ground up, using their App framework (Zendesk app tools) and consuming their perfectly structured API. Zendesk is fully customizable, having custom triggers and automations that executes actions when some business rules are meet.
Cons:
We didn't find any problem with Zendesk so far due to the awesome team they have and the immediate support
Kieran K.
Event Manager in Taiwan
Events Services, Self Employed
Used the Software for: 2+ years
All in one solution
Comments: Easy implementation
Gradually expanded to other features
Still need better tracking
Pros:
Replaced a number of systems and allows for tracking history across mediums
Cons:
Slow to use when many apps and integrations configured
Alternatives Considered: Freshdesk
Reasons for Choosing Zendesk: Combine calls tickets and tutorials in one
Switched From: ScreenSteps and UserVoice
Laurent F.
Responsable R&D in France
Insurance, 11-50 Employees
Used the Software for: 1-5 months
la pire expérience support qui soit !
Comments: Zendesk est un excellent service de support.
Malheureusement, en terme d'assistance technique ils sont aux abonnés absents.
Alors qu'ils prévoient contractuellement une assistance téléphonique, celle-ci n'est accessible que d'eux vers leurs clients (impossible de les appeler). Il reste alors à faire une demande d'assistance avec le Chatbot le plus stupide du net ! Je cite à l'envie : demande de se connecter pour s'identifier alors que vous êtes connecté (donc impossible de s'identifier), demande de s'identifier par un code envoyé par email qui arrive une fois sur 4 et lorsque l'email arrive le code est absent (donc impossible de faire une demande), etc. Parlons enfin des délais de réponse de Zendesk : minimum 3 jours ouvrés pour obtenir une réponse le plus souvent demandant des précisions donc encore 3 jours pour avoir une réponse... En fait, il ne faut pas avoir besoin d'eux ! Si vous vous plaignez de leurs carences, ils vous proposent de vous communiquer les coordonnées d'intégrateurs ! En résumé, si vous n'avez pas le budget nécessaire pour vous payer un intégrateur et que vous n'êtes pas hyper patient il vaut mieux ne pas choisir Zendesk. C'est paradoxal : un des meilleurs services de support client du marché propose à ses propres clients la pire expérience support qui soit !
Pros:
Performant et efficace. Procure une excellente expérience pour l'utilisateur final
Cons:
Service client Zendesk pouvant prétendre à être le plus mauvais du monde
Oscar A.
Manager in Mexico
Verified LinkedIn User
Information Technology & Services, 11-50 Employees
Used the Software for: 2+ years
Zendesk = Great help desk
Comments: We have done quite well. We have already more than 2000 Tickets attended with the tool in our 2 subscriptions.
It has allowed us to keep a good control of our service and has allowed us to improve response times and quality of service, since the reports help to keep each Ticket impartially between us and the clients.
Pros:
It is easy to use. When new engineers arrive, it is very fast to register them in the portal so that they can begin to attend support tickets. For customers it is a tool that allows you to keep track of the hours that are billed according to the Tickets and even with the reports you can keep track of who reports and who fails to report.
Cons:
The licensing scheme could improve. In particular, we have two subscriptions to Zendesk, one for use by external clients and one for our internal users. For our internal users we do not require so many functionalities, only the basics, but among what we require is the chat service, only for this we have to jump to a subscription scheme that increases internal costs. Having this feature from the lowest script would be a good thing for us.
Alternatives Considered: Zoho Desk
Reasons for Switching to Zendesk: We had used other Zoho tools. But the best fit at the time was the price and being able to start with a very basic scheme of agents to test. So with a low initial investment we were able to implement the solution and start working, as soon as we saw its virtues we decided to stick with it.
Andre R.
VP Operations EMEA in Netherlands
Computer Software, 51-200 Employees
Used the Software for: 2+ years
Easy to implement, easy to use customer services one stop shop
Comments: Zendesk tackled all requirements for us when starting with it. We were on the lookout for easy to use software that would allow ticket management as well as a help portal for our customers. We required little assistance to get it set up.
Pros:
Zendesk is great to be able to easily log, handle and resolve tickets, embed CSAT and integrate with core systems such as salesforce and JIRA. Easy to deploy, easy to customize, rolled out in just a few months.
Cons:
I wish Zendesk would have a better method of dealing with organizations and users. Not only in reporting but basically in the administration of it. In our organization, it leads to a lot of noise and data quality issues.