What Is Improvado?
Spend your time wisely analyzing reports and not building them.📈
Improvado is an ETL platform that extracts data from 300+ pre-built marketing and sales data sources, cleans and normalizes it, transforms it, and seamlessly uploads meaningful data to your chosen destination, such as a data warehouse or BI tool.
That's what we've done before for companies like Ancestry, Asus, and AdRoll, and we can do it for you, too.
Book a demo now at improvado.io.
Who Uses Improvado?
Our partners are usually mid-size companies and large enterprises from the E-commerce, Healthcare, Finance, Computer Software industries searching for a flexible solution to aggregate all their data.
Where can Improvado be deployed?
Cloud, SaaS, Web-based
About the vendor
Improvado
Located in San Francisco, US
Founded in 2013
Phone Support
24/7 (Live rep)
Chat
Languages
English, Russian
About the vendor
Improvado
Located in San Francisco, US
Founded in 2013
Phone Support
24/7 (Live rep)
Chat
Languages
English, Russian
Improvado videos and images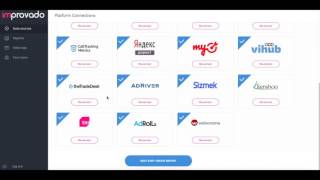 Compare Improvado with similar products
Features of Improvado
AB Testing
API
Access Controls/Permissions
Ad hoc Reporting
Admissions Management
Alerts/Notifications
Auto Extraction
Backup and Recovery
Campaign Analytics
Campaign Management
Campaign Tracking
Cataloging/Categorization
Channel Analytics
Channel Management
Collaboration Tools
Competitor Monitoring
Contact Database
Contact Management
Content Management
Conversion Tracking
Cross Channel Attribution
Customer Database
Customer Engagement
Customer Journey Mapping
Customer Segmentation
Customizable Dashboard
Customizable Reports
Customizable Templates
Dashboard
Dashboard Creation
Data Aggregation and Publishing
Data Analysis Tools
Data Capture and Transfer
Data Connectors
Data Dictionary Management
Data Discovery
Data Extraction
Data Import/Export
Data Management
Data Mapping
Data Quality Control
Data Replication
Data Storage Management
Data Visualization
Database Conversion
Document Extraction
Drag & Drop
ETL Tools
Email Address Extraction
Email Marketing
Engagement Tracking
Event Triggered Actions
Forecasting
Functions/Calculations
Funnel Analysis
Image Extraction
Incentive Management
KPI Monitoring
Key Performance Indicators
Lead Capture
Lead Management
Lead Qualification
Marketplace Integration
Match & Merge
Metadata Management
Multi-Account Management
Multi-Campaign
Multi-Channel Attribution
Multi-Channel Data Collection
Multi-Touch Attribution
Multiple Data Sources
Multiple Programming Languages Supported
Order Management
Partner Management
Performance Metrics
Phone Number Extraction
Pipeline Management
Predictive Analytics
Pricing Extraction
ROI Tracking
Reporting & Statistics
Reporting/Analytics
SEO Management
SaaS Operations Management
Sales Reports
Scheduled / Automated Reports
Search/Filter
Single Page View
Social Media Monitoring
Spend Management
Strategic Planning
Time on Site Tracking
Trend Analysis
Usage Tracking/Analytics
User Interaction Tracking
Vendor Management
Version Control
Visual Analytics
Visual Discovery
Visualization
Web Data Extraction
Website Analytics
Widgets
Terry W.
President in US
Verified LinkedIn User
Used the Software for: 2+ years
Improvado seamlessly powers all our paid advertising and e-commerce platform reporting. We love it.
Pros:
Powerful. Tons of APIs to hook into tons of platforms, and always adding more. Great Google Sheets integration. Solid customer support - super responsive. Very detailed and thorough on data collection. Literally hundreds of fields are imported from various platforms, and it's easy for the user to customize how they measure and view the data. Most reporting platforms will look good until you find the one fatal flaw that means that you can't use it for your use case. We have never run into this with Improvado, and they are always getting better.
Cons:
Would love to get some data preparation and transformation functionality to take things to the next level.
Stephen M.
Media Associate in Netherlands
Verified LinkedIn User
Marketing & Advertising, 201-500 Employees
Used the Software for: 6-12 months
Easy To Pick Up
Comments: Being able to pull various different platform datas into one solution without having to do too much heavy lifting.
Pros:
The platform is straight forward to get the hang of and the support team are excellent for any queries. The plug and play elements of the product make it super easy to get a dashboard of the ground when you are hard pressed to get something in front of a client or stakeholder. Connecting various platforms is a breeze too as Improvado supports a whole host of different connections and integrations - if anything is not listed, someone is always on hand to provide support to try and implement a workaround or look into getting the provider added as a data source. The Improvado support team also allowed us to push our data to other products (such as Google Biq Query) in order to be more flexible with our data.
Cons:
When comparing to other products available the ability to create custom tabs is limited on this product, thought the templates provided are certainly sufficient - as mentioned in the likes of this product, they do push to external products too, so not necessarily a bad point. One down side is the data pushed to external sources is owned by Improvado so it can be a little slow going if you want to update and test your own things - you have to rely on support to make the updates for you.
Laurie R.
APRN/Business Owner in US
Health, Wellness & Fitness, 2-10 Employees
Used the Software for: Free Trial
Tried to Get Info But Rep Did Not Call as Scheduled
Comments: Given that a call was scheduled for a set day and time and was not followed thru did not impress me.
Pros:
I liked the idea of getting to have all of my marketing data in one spot to utilize in different forums and platforms.
Cons:
The fact that a demo was scheduled at a set day and time and I was not contacted at that time does not speak well for the support for this product. The demo should be one of their most important calls.
Scott H.
President in US
Verified LinkedIn User
Marketing & Advertising, 2-10 Employees
Used the Software for: 1+ year
Great Time Saving Client Pleasing Partner
Comments: The entire team from start to finish has been great to work with and they address problems quickly and effectively.
Pros:
The flexibility is quite good. I know the challenges this industry faces when building a product that has multiple customers with myriad of requirements. Improvado does a great job at allowing for the flexibility of variable output demands.
Cons:
It's not necessarily what I don't like about the software, but more so about the lack of universal stats across platforms allowing for more comparative data. There are ways to do it, but it takes more heavy lifting that we'd like. If you open two sessions on the same report you can do a side by side comparison, but the minute you dig deeper they both revert to the latest date range pulled.
Catie F.
Director of Operations in US
Marketing & Advertising, 11-50 Employees
Used the Software for: 1-5 months
Alternatives Considered:
Taking our business to the next level!
Pros:
The customer success team particularly [SENSITIVE CONTENT HIDDEN] had been extremely helpful and patient with us getting this up and running. He walked us through all the steps, helped us understand how to best use all the features.
Cons:
We have had minimal hiccups so far, we are about 2 months into using the product.