What Is HoneyBook?
HoneyBook helps creative entrepreneurs and freelancers book more clients, manage projects and get paid all in one place. With our business management software, you can automate your busy work and stay on top of all your to-dos, saving time and money so you can grow your business. Its like your own personal assistant.
Small business owners and freelancers have used HoneyBook to increase their bookings and save time.
For your first 6 months, get HoneyBook for $1 per month with code ONLY1.
Who Uses HoneyBook?
Graphic designers, DJs, photographers, business coaches, web designers, consultants, florists, caterers, videographers, calligraphers, business coaches, health & wellness professionals, and more!
Where can HoneyBook be deployed?
Cloud, SaaS, Web-based, Mac (Desktop), Windows (Desktop), Linux (Desktop), Chromebook (Desktop), Android (Mobile), iPhone (Mobile)
About the vendor
HoneyBook
Located in Cedar Hill,, US
Founded in 2013
Phone Support
Chat
Countries available
Canada, United States
About the vendor
HoneyBook
Located in Cedar Hill,, US
Founded in 2013
Phone Support
Chat
Countries available
Canada, United States
HoneyBook videos and images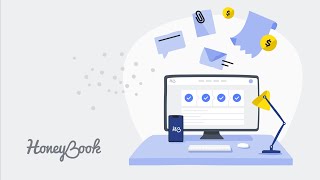 Compare HoneyBook with similar products
Features of HoneyBook
ACH Payment Processing
API
Access Controls/Permissions
Accounting Integration
Activity Dashboard
Alerts/Notifications
Appointment Scheduling
Authentication
Availability Management
Billing & Invoicing
Business Process Automation
CRM
Calendar Management
Calendar Sync
Calendar/Reminder System
Canned Responses
Client Management
Client Portal
Collaboration Tools
Completion Tracking
Contact Database
Contact Management
Content Library
Contract Drafting
Contract/License Management
Customer Accounts
Customer Database
Customizable Invoices
Customizable Templates
Dashboard
Data Import/Export
Data Security
Debit/Credit Card Processing
Document Management
Document Storage
Electronic Payments
Electronic Signature
Email Management
Expense Tracking
File Sharing
For Startups
Forms Automation
Forms Management
In-Person Payments
Interaction Tracking
Invoice Creation
Invoice History
Invoice Processing
Lead Capture
Lead Management
Mobile Access
Mobile App
Mobile Payments
No-Code
Online Booking
Online Invoicing
Online Payments
Payment Processing
Pre-built Templates
Process Modeling & Designing
Project Management
Project Planning/Scheduling
Quotes/Estimates
RFP Management
Real Time Notifications
Recurring/Subscription Billing
Reminders
Reporting & Statistics
Reporting/Analytics
Reporting/Project Tracking
Response Management
Rules-Based Workflow
Scheduling
Search/Filter
Signature Management
Social Media Integration
Task Management
Task Scheduling
Tax Calculation
Templates
Third Party Integrations
Time Tracking
Version Control
Web-based Deployment
Workflow Configuration
Workflow Management
Christina S.
Owner in US
Verified LinkedIn User
Legal Services, 2-10 Employees
Used the Software for: 2+ years
The Best Client Management Resource-- goes beyond normal software
Comments: Before I used HoneyBook, I had tried several other client management platforms. All of them were clunky, and often I'd have to hunt around for things in the interest of the app developer's attention to folders and organization. What a mess! I'm so glad I switched to HoneyBook. They've consistently made product improvements and seem to really care about their customers. It gets easier and more fun to use every day, with just enough features to accomplish what I need without overwhelming me. I highly suggest this to anyone who is managing multiple clients, especially if you have client projects that tend to go dormant for awhile then pick back up.
Pros:
I love how easy it is to use, and how amenable the HB team is to updating the software if you have a feature request or complaint. It provides very visual, easy user prompts that allow me to easily accomplish what I need in a fraction of the time of other software apps I've tried.
Cons:
It's annoying that I can't delete the default emails that came with my account to replace them with my own workflow, so myself or a team member doesn't get confused with their suggested emails vs. the ones I actually want to use.
HoneyBook Response
3 years ago
Christina, thank you for you being a HoneyBook member! We are so happy to hear that HB allows you to manage your clients in a fraction of time of other systems! Our Product Team works hard to consistently meet and exceed our members expectations. Thank you for the feedback on the default email templates. I will share with our team. Incase you didn't know, you can edit the default templates text and format to meet your needs.
Steve S.
Business owner in US
Photography, 2-10 Employees
Used the Software for: 2+ years
Alternatives Considered:
The sweetest solution for photographers
Comments: Honeybook continues to be a game-changer for our photography business. It has been an integral part of our daily workflow for years now. This year they added calendar and booking functionality.
Pros:
Love the customer service. Whenever I need help they are always right there. We use HB for every booking. As soon as a lead goes active, we start a new project and manage everything from communication to proposal to contact to invoicing with HB.
Cons:
There could maybe be more freedom to customize but really it's just an advanced issue. First world problems.
Verified Reviewer
Owner in US
Verified LinkedIn User
Entertainment, 11-50 Employees
Used the Software for: 1-5 months
Source: GetApp
Worst Customer Service of ALL the platforms we've tried
Comments: My interactions with the team always left me frustrated, angry, and in a foul mood that only they could seem to get me into. Even my wife trying to get me mad could not boil my blood as quickly and completely as the interactions with this team.
Pros:
It looked like it might have been perfect for us, but the horrible experiences with the Honeybook team pushed us away from ever considering it at scale for our business.
Cons:
The fact that there was ZERO support whatsoever may it an easy choice to stay away from this as a viable solution for our business long term.
Jessica P.
Owner | Marketing Strategist & Coach in US
Marketing & Advertising, Self Employed
Used the Software for: 2+ years
Alternatives Considered:
Your go-to, all-in-one CRM for small business!
Comments: Amazing, hands down!
Pros:
Easy to use and so many features! The ability to go to one place AND have so many things automated is amazing!
Cons:
There are little things that can be improved, but so does everything. I have voiced my suggestions to the HoneyBook team and they are passing the information along to try to improve my experience. Even without those being fixed, I still love HoneyBook.
Daniela M.
Owner & Photographer in US
Photography, Self Employed
Used the Software for: 1+ year
Alternatives Considered:
My business can't survive without Honeybook
Comments: This CRM makes my business run smoothly and efficiently. I otherwise would not be able to keep track of task due dates and all of my clients. I cannot run my business without Honeybook.
Pros:
I love that everything I need to run my business is in one place, and that I can customize just about everything to create brand cohesive experiences for my clients.
Cons:
Couple little things here and there, like a box won't move where I want it to in Flows, but they are always tweaking and adding new features. The customer service is also stellar so if anything goes wrong I know someone will be able to help me right away!