What Is monday.com?
monday.com is a cloud-based Work OS, where teams create workflow apps in minutes to run their processes, projects, and everyday work.
Teams shape workflows and projects, code-free, with an adaptive platform that automates manual work and connects teams in a digital workspace.
The platforms features include: customizable workflow templates, time tracking, automations, data dashboards, and integrations with popular tools.
More than 100,000 companies around the world rely on monday.com.
Who Uses monday.com?
A multitude of teams, big, small, and cross-functional, in a variety of industries worldwide. Its intuitive interface and customization capabilities makes it suitable for any project and business.
Where can monday.com be deployed?
Cloud, SaaS, Web-based, Mac (Desktop), Windows (Desktop), Linux (Desktop), Android (Mobile), iPhone (Mobile), iPad (Mobile)
About the vendor
monday.com
Located in Tel Aviv, Israel
Founded in 2014
Phone Support
24/7 (Live rep)
Chat
monday.com pricing
Starting Price:
US$0.00/month
Yes, has free trial
Yes, has free version
monday.com has a free version and offers a free trial. monday.com paid version starts at US$0.00/month.
Pricing plans
get a free trial
About the vendor
monday.com
Located in Tel Aviv, Israel
Founded in 2014
Phone Support
24/7 (Live rep)
Chat
monday.com videos and images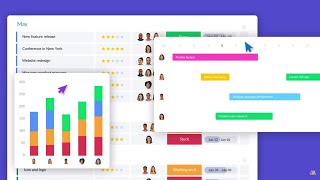 Features of monday.com
360 Degree Feedback
Access Controls/Permissions
Activity Dashboard
Activity Planning
Activity Tracking
Activity/News Feed
Advertising Management
Agent Management
Agile Methodologies
Alerts/Notifications
Annotations
Applicant Tracking
Approval Process Control
Approval Workflow
Archiving & Retention
Artwork Management
Asset Categorization
Asset Library
Asset Sharing
Assignment Management
Attendee Management
Automated Scheduling
Automatic Time Capture
Backlog Management
Backorder Management
Bar Chart
Batch Processing
Bid Management
Billing & Invoicing
Brainstorming
Brand Guidelines
Browsing History
Budget Management
Budget Tracking/Job Costing
Budgeting/Forecasting
Bug/Issue Capture
Business Process Automation
CRM
Calendar Management
Calendar/Reminder System
Campaign Analytics
Campaign Management
Campaign Planning
Capacity Management
Capacity Planning
Cataloging/Categorization
Change Management
Change Order Management
Channel Management
Chat/Messaging
Client Management
Client Portal
Client Tracking
Collaboration Tools
Color Codes/Icons
Commenting/Notes
Commission Management
Communication Management
Compensation Management
Compliance Management
Compliance Tracking
Configurable Workflow
Contact Database
Contact Management
Content Library
Content Management
Contract/License Management
Contractor Database
Contractor Management
Cost Tracking
Cost-to-Completion Tracking
Create Subtasks
Customer Database
Customer Segmentation
Customizable Branding
Customizable Fields
Customizable Forms
Customizable Reports
Customizable Templates
Dashboard
Data Connectors
Data Import/Export
Data Visualization
Dependency Tracking
Deployment Management
Diagramming
Digital Asset Management
Discussions / Forums
Document Management
Document Storage
Drag & Drop
Electronic Forms
Email Management
Email Marketing
Email-to-Task Conversion
Employee Activity Monitoring
Employee Database
Employee Directory
Employee Management
Employee Photos
Employee Profiles
Employee Scheduling
Equipment Tracking
Estimating
Event Management
Event Scheduling
Event Triggered Actions
Exhibit/Vendor Management
Expense Tracking
Feedback Management
File Management
File Sharing
File Storage
Financial Management
For AEC Industry
For IT Project Management
For Real Estate
For Real Estate Agencies
Forecasting
Forms Automation
Forms Creation & Design
Forms Management
Front Desk Management
Full Text Search
Functions/Calculations
Gantt/Timeline View
Goal Setting / Tracking
Group Management
Guest Access
Guest Experience Management
Housekeeping Management
Idea Management
Ideation
Import Tasks
Innovation Management
Integrations Management
Interaction Tracking
Inventory Management
Inventory Tracking
Issue Auditing
Issue Management
Issue Tracking
Item Management
Iteration Management
Job Scheduling
KPI Monitoring
Kanban Board
Knowledge Base Management
Knowledge Management
Landing Pages/Web Forms
Lead Capture
Lead Management
Lead Qualification
Lease Management
Listing Management
Maintenance Management
Maintenance Scheduling
Marketing Automation
Marketing Calendar
Material Requirements Planning
Media Library
Media Planning
Meeting Management
Meeting Notes
Messaging
Metadata Management
Milestone Tracking
Mobile Access
Mobile App
Multi-Account Management
Multi-Campaign
Multi-Channel Communication
Multi-Device Support
Multi-Language
No-Code
Notes Management
Onboarding
Online Booking
Online Time Clock
Online Time Tracking Software
Order Entry
Order Fulfillment
Order Management
Order Tracking
Org Chart Creation
Orientation Workflow Management
Overtime Calculation
Payroll Management
Percent-Complete Tracking
Performance Metrics
Permit Management
Polls/Voting
Post Scheduling
Presentation Tools
Prioritization
Process Modeling & Designing
Process/Workflow Automation
Product Data Management
Product Lifecycle Management
Product Roadmapping
Progress Tracking
Project Management
Project Planning
Project Planning/Scheduling
Project Scheduling
Project Tracking
Property Database
Property Management
Publishing / Sharing
Purchase Order Management
Qualification Tracking
Quotes/Estimates
RFI & Submittals
ROI Tracking
Rate Management
Real Time Editing
Real Time Notifications
Real Time Synchronization
Real-time Updates
Recurring Orders
Recurring Tasks
Registration Management
Release Management
Release Planning
Reminders
Remote Access/Control
Remote Support Software
Reporting & Statistics
Reporting/Analytics
Reporting/Project Tracking
Requirements Management
Reservations Management
Resource Management
Resource Scheduling
Returns Management
Roadmapping
Role-Based Permissions
Rules-Based Workflow
SEO Management
Safety Management
Sales Pipeline Management
Sales Tax Management
Scenario Planning
Scorecards
Screen Sharing
Search/Filter
Segmentation
Self Service Portal
Shift Swapping
Shipping Management
Single Page View
Single Sign On
Skills Tracking
Social Media Integration
Social Promotion
Spend Management
Sprint Planning
Staff Calendar
Stakeholder Defined Attributes
Status Tracking
Strategic Planning
Subcontractor Management
Supplier Management
Surveys & Feedback
Tagging
Task Editing/Updating
Task Management
Task Progress Tracking
Task Scheduling
Task Tagging
Task/Project Tracking
Template Management
Templates
Territory Management
Testing/QA Management
Text Editing
Third Party Integrations
Ticket Management
Time & Attendance
Time & Expense Tracking
Time Tracking
Timesheet Management
To-Do List
Traceability
Training Management
Transaction Management
User Management
User Profiles
Utilization Reporting
Vacation/Leave Tracking
Vendor Management
Version Control
Video Chat
Video Conferencing
Video Support
Visual Modeling
Visual Workflow Management
Visualization
Web-based Deployment
What-if Analysis
Widgets
Workflow Configuration
Workflow Management
Annabel
Co-founder and CMO in Canada
Verified LinkedIn User
Computer Software, 11-50 Employees
Used the Software for: 2+ years
Monday.com just keeps growing
Comments: I couldn't do my work without Monday.com. It's my task list, my reporting tool, keeps our strategy and OKRs in boards - everything to do with our workload is managed easily through Monday.
Pros:
I find tagging users, assigning work and adjusting timelines to be really easy. I spend the majority of my day inside Monday.com and it's the first tab I open in the morning. I use the My Work section to easily keep on top of my tasks and my team members tasks.
Cons:
Honestly there aren't a lot of cons. Probably like most software it's hard to know how to use all the features and tools but their online help is really good and they do a good job communicating changes.
Alternatives Considered: ClickUp and Wrike
Reasons for Choosing monday.com: The other tool we were using didn't have enough flexibility. There is honestly nothing Monday.com can't do. It really is a Work OS.
Sarah
System Administrator in US
Verified LinkedIn User
Information Technology & Services, 10,000+ Employees
Used the Software for: 2+ years
All team members know what to do each week
Comments: Apply the status property to automate tasks like as responding to job applications, sending files to an email address, monitoring progress on a project, and notifying relevant parties. Monday.com now has slack integrations, so when an incident is created in a product, our members are alerted in the appropriate slack channel as well as on Monday.com.
Pros:
Super easy to set up, and you can keep things basic if you like, or get creative with your tracking. In this way, I know that my team and I are covering all the bases. Our company's record-keeping and responsibility are both enhanced by the software. The responses to inquiries and requests from the support service are prompt, and the help videos are excellent.
Cons:
Perhaps this is the cost that new businesses must pay. When you realize the potential of Monday.com and Notion. For a new business, it might be challenging to afford both Notion and monday.com. It may be really convenient to receive a discount for utilizing both applications.
Sarah
Operations Manager in US
Computer Software, 11-50 Employees
Used the Software for: 6-12 months
Not a great PM or CRM platform
Comments: My overall experience has been negative, as monday.com just isn't easy to use.
Pros:
My favorite feature of monday.com is the automation. This makes it easy to stay on top of tasks without logging into the platform, however the number of automations you get per month is very limited with the lower tiered plans.
Cons:
I dislike almost everything about this software, but primarily the PM and CRM functions. On the PM side, the platform does not make it easy to create templates for tasks and use them to structure future projects. There is also not capability (that I could find) to update the date on more than one task at a time. It's very tedious to add a project into monday.com and even more tedious to change dates later on. There are some pretty views and pre-made project templates, but for someone with experience in the PM field monday.com feels more like a hinderance than a help. On the CRM side, I was honestly shocked to hear monday.com branded themselves as such. As someone with experience in multiple CRMs, I can see almost nothing on this platform that functions as a CRM. It could be helpful for VERY simple contact management, but that's about it. All of this to say I can tell the monday.com team is trying very hard to make a good product, it just seems like it's trying to do too much and doing none of it well.
monday.com Response
last month
Hey there. Thanks so much for taking the time to leave a review and for your feedback. We would love to talk further about how monday.com can accomplish those things, so please send us an email to [email protected]!
Mike
Online marketing consultant in Netherlands
Verified LinkedIn User
Marketing & Advertising, 2-10 Employees
Used the Software for: 6-12 months
Monday.com is one of the better ways to keep track of your work tasks!
Comments: I really like how Monday.com makes it easy to see what everyone is working on and what tasks are upcoming. It's also been really helpful for me to be able to track my own progress on tasks. Overall, I'm really happy with Monday.com!
Pros:
I've found that Monday.com is an excellent tool for keeping track of both my own work and the work of my team. It's easy to use and provides a great deal of visibility into what everyone is working on. This has been extremely helpful in coordinating our efforts and ensuring that everyone is on track. I would highly recommend Monday.com to anyone looking for a project management solution.
Cons:
The only thing I didn't like about Monday.com was that it wasn't always easy to figure out how to do specific tasks. For example, there were a few times when I wasn't sure how to add a comment or edit a task. However, the support team was always quick to help and they made it easy to learn how to use the software.
Alternatives Considered: Jira, Trello and Asana
Reasons for Switching to monday.com: There are a few reasons why I chose Monday.com over Asana, Trello, or Jira. First, Monday.com is extremely easy to use. The interface is clean and straightforward, and it's easy to figure out how to do everything. Second, Monday.com provides a great deal of visibility into what everyone is working on. This has been extremely helpful in coordinating our efforts and ensuring that everyone is on track. Finally, the support team is excellent. They are quick to respond to questions and they make it easy to learn how to use the software.
Verified Reviewer
Chief Revenue Officer in Poland
Verified LinkedIn User
Information Technology & Services, 51-200 Employees
Used the Software for: 1-5 months
Customizable and friendly UI with many integrations
Comments: Our main focus for a CRM was tracking our leads and deals. However, we wanted to have other customer facing teams to work on the CRM as well. They didn't like those large enterprise level CRM UIs. Monday.com was easy to use and they all voted for it. We can now have all our inputs about our clients and tasks under a single platform.
Pros:
It has a very insightful dashboard with different parameters and colors. We can easily customize the view and metrics to look at. Data visualization job done well. We chose MOnday.com because it is not only a CRM designed for sales tracking but our other teams like marketing, customer success etc. can also work with it easily. Having an easy UI helps our teams to actually work on the CRM. It is a good way to encourage people to do the documentation. The pricing is also a good match compared to some other alternatives.
Cons:
Haven't heard anything from the teams. We have sorted out missing things via easy integrations.
Alternatives Considered: Insightly, Creatio CRM, Freshsales and SugarCRM
Reasons for Choosing monday.com: It was too much sales pipeline oriented
Switched From: Pipedrive
Reasons for Switching to monday.com: Several different teams including sales, marketing, client success and HR all agreed that this one product is super easy to use and it can combine different business teams in one place