What Is Snappii?
Snappii, a leading Mobile Business Apps and Forms company, offering Business Process Automation and Field Reporting Apps used predominantly in Construction, Inspection and Work Order management, has made the digital transformation affordable especially for small and midsized companies. Snappii helps to design, build, and deliver feature-rich business apps and form apps in days versus months without any coding skills. Any business app and form app can be created quickly, easily and affordably.
Who Uses Snappii?
From small businesses to Fortune 100 companies
Where can Snappii be deployed?
Cloud, SaaS, Web-based, Linux (Desktop), Android (Mobile), iPhone (Mobile), iPad (Mobile)
About the vendor
Snappii
Located in Rochester, US
Founded in 2010
Phone Support
Chat
Countries available
Australia, Canada, Germany, United Kingdom, United States
About the vendor
Snappii
Located in Rochester, US
Founded in 2010
Phone Support
Chat
Countries available
Australia, Canada, Germany, United Kingdom, United States
Snappii videos and images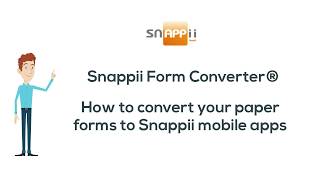 Compare Snappii with similar products
Features of Snappii
3PL Management
ACH Payment Processing
Abbreviation Detection
Access Controls/Permissions
Accounting
Accounting Integration
Admissions Management
Assessment Management
Asset Tracking
Attendance Tracking
Barcoding/RFID
Bid Management
Billing & Invoicing
Budget Tracking/Job Costing
Built-in Accounting
CRM
Calendar Management
Carrier Management
Catalog Creation
Check-in/Check-out
Claims Management
Class Scheduling
Client/Property Matching
Collaboration Tools
Collections Management
Commission Management
Compatibility Testing
Compliance Management
Contact Database
Contact Management
Content Library
Content Management
Contract/License Management
Contractor Management
Cost Tracking
Curriculum Management
Customer Management
Customizable Forms
Customization
Data Capture and Transfer
Data Quality Control
Data Replication
Data Retrieval
Database Publishing
Dispatch Management
Document Management
Drag & Drop
Drip Campaigns
Electronic Signature
Email Marketing
Employee Management
Equipment Management
Equipment Tracking
Estimating
Event Calendar
Facility Management
Faculty/Staff Management
File Storage
Financial Management
Fleet Management
Forecasting
Forms Creation & Design
Front Desk Management
GDS/OTA Integration
Graphical User Interface
Guest Experience Management
Housekeeping Management
Image Capture
Incident Response Checklists
Inspection Management
Insurance Policy Management
Inventory Auditing
Inventory Control
Inventory Management
Inventory Optimization
Inventory Tracking
Item Management
Job Costing
Job Management
Landing Pages/Web Forms
Late Fee Calculation
Lead Management
Lead Qualification
Listing Management
Logistics Management
Maintenance Management
Maintenance Scheduling
Marketing Automation
Merchandising
Meter Data Management
Metered Billing
Mobile Access
Multi-Channel Marketing
Multi-Location
No-Code
Offline Access
Online Booking
Online Calendar
Online Payments
Online Time Clock
Order Management
Parent/Student Portal
Payment Collection in the Field
Penalty / Cut-Off Processing
Permit Management
Point of Sale (POS)
Preventive Maintenance
Pricing Management
Process/Workflow Automation
Product Identification
Project Management
Project Tracking
Property Management
Purchase Order Management
Purchasing & Receiving
Quality Management
Quotes/Estimates
RFI & Submittals
ROI Tracking
Rate Management
Receiving/Putaway Management
Reorder Management
Reporting/Analytics
Reservations Management
Returns Management
Routing
Scheduling
Search/Filter
Segmentation
Self Service Portal
Service History
Shipment Tracking
Shipping Management
Social Marketing
Student Information/Records
Supplier Management
Tactical View
Technician Management
Time & Expense Tracking
Timesheet Management
Training Management
User Management
Vendor Management
Visual Modeling
Web/Mobile App Development
Website Visitor Tracking
Work Order Creation
Work Order Management
eCommerce Management
Bahar A.
Reviewer in Bangladesh
Verified LinkedIn User
Computer Networking, 2-10 Employees
Used the Software for: Free Trial
Source: GetApp
Codeless app platform, mobile apps and forms
Pros:
Snappii mobile enterprise app development platform is a real alternative to hiring expensive mobile Apps developers that are hard to find, or outsourcing mobile app development to unknown and unreliable companies. Snappii offers web service integration and can connect to enterprises' back-end systems for secure data transition. In addition to do-it-yourself and custom app development, Snappii offers a wide selection of ready-made industry specific apps that are available for download from Apple AppStore and Google Play store. These apps can be 100% customized to meet the needs of a specific business. Over 68, 000 apps have already been built on Snappii codeless platform, with customers range from the largest companies to medium and small organizations and this number keeps growing.
Cons:
Hawkwood & Co run an intelligence service for the oil and gas industry. Using the Snappii platform, we have been able to develop an App to support the service. It allows us to deliver reports and geospatial intelligence directly to our clients Smartphones and Tablets, avoiding overstuffed inboxes. We can also ensure time critical information is delivered promptly via a push notification ensuring our
John B.
Executive Director in US
Hospital & Health Care, 201-500 Employees
Used the Software for: 2+ years
Alternatives Considered:
Efficiency = Expansion
Comments: We love Snappii! Our field staff is able to collect documents and have them emailed to our office staff and stored in our cloud instantaneously. This has reduced travel back and forth to our office, mailing of documents, and scanning of documents. This has saved our company both time and money. It has enabled us to scale our business at a rapid rate. We have grown quickly enough to be an Inc. 5000 company four years in a row, that wouldn't be possible without Snappii.
Pros:
-The ability to easily make changes in guru mode. -How user-friendly it is out in the field. -The reliability of the App working properly. -Support from Sales executive and others has been very quick and helpful.
Cons:
-The fact that our custom app is not able to be downloaded through the App store. -Occasionally the app won't submit documents and we have to refresh the app and then lose the documents.
Mechanical or Industrial Engineering, 2-10 Employees
Used the Software for: 6-12 months
Not for me!
Comments: My experience was a waste of money as we have now switched to another provider and the difference is night and day. I wouldn't recommend this provider Sorry.
Pros:
Unable to think of anything good to say.
Cons:
Tech help poor unless you want to pay them more money to sort issues. DIY platform was tedious and left you stuck and tech help soon get fed up of you and also will ignore you too using the chat facility.
Snappii Response
3 years ago
Jeff, thank you for your feedback. We are sorry you had a negative experience with our platform. Per our records, we had 2 free GoToMeeting sessions with you to address your needs. We do not offer any more free help after we sufficiently helped you in the past. We have free resources all users are welcome to use. If any user struggles after the free session, we do offer a paid training. We are sorry that this didn't meet your expectations. Hope you found a service that works free of charge for you. We do not.
Robert G.
Purchasing Manager in Canada
Construction, 1,001-5,000 Employees
Used the Software for: 1+ year
Alternatives Considered:
Purchasing APP
Comments: Truly amazing customer service! CSRs have/are wonderful to work with.
Pros:
Stream line Purchasing in our construction field as well as putting controls and cost measures in place.
Cons:
Fortunately nothing for now. This is a first for us so there are growing pains as we progress. Snappii always brain storming with me on finding best solution.
Transportation/Trucking/Railroad, Self Employed
Used the Software for: 2+ years
Snappii - Create your own mobile app
Comments: I give the Snappii platform 5 Stars. It is the best self-help Mobile App platform I could find. After spending trying at least 30 different platforms and studying how to create a mobile apps, I found the Snappii platform. It does so much more than any other platform. Matter of fact, if it wasn't for the this platform, I would not have been able to create my app. I have a very complicated app and I was able to create my app without having to learn programming code. Other self-help app platforms do not offer all the same features as the Snappii platform without learning programming code. I was looking for a platform hard to find features such as: Data base capabilities: Whereas I could build a database and access that database with multiple search options. Paid Subscriptions: User are able to subscribe to content in my app. Works on Multiple platforms: Iphone and Android What would have cost me $20,000-$40,000 for a programmer to build, I was able to build without learning any programming code? Was it easy? No, remember I said I have a complicated app. I spent about 1,000 hours building my app. You can build simple or complicated apps with the Snappii platform. Simple mobile apps will not take as long to build. The Snappii platform has templates that help making an app very easy. I took the more challenging way and created my app from scratch using the platform. The name of the app I created is called "ParkMyRig". It can be found in the Play Store or the App Store.
Pros:
Easier to learn than other apps, customer service and tech support was very helpful, and has powerful features not included in other self-help mobile app platforms.
Cons:
Just like any self-help Mobile app platform, it does not have every feature that you can get from a programmer. I guess it depends on whether you have time or money. If you have money, pay someone to build your app, but if you have the time, the Snappii platform is a very powerful platform that outperforms other self-help Mobile App Platforms.