What Is SimplyBook.me?
SimplyBook.me offers the most extensive booking system on the market, that makes you look professional and solves all your online needs. You get a full blown booking website, or a widget for your own website, where you can present your business and accept appointments, sell products, membership, packs, gift cards and service add-ons. A great variety of marketing tools available as well as an Admin app and a branded Client app. An extensive Enterprise Solution available with HQ management.
Who Uses SimplyBook.me?
SimplyBook.me suits all small & med sized companies accepting bookings like beauty salons, schools, consultants etc. The Enterprise solution allows to manage all subsystems within the admin interface.
Where can SimplyBook.me be deployed?
Cloud-based
On-premise
---
About the vendor
SimplyBook.me
Located in Limassol, Cyprus
Founded in 2008
SimplyBook.me pricing
Starting Price:
US$9.90/month
Yes, has free trial
Yes, has free version
SimplyBook.me has a free version and offers a free trial. SimplyBook.me paid version starts at US$9.90/month.
Pricing plans
get a free trial
About the vendor
SimplyBook.me
Located in Limassol, Cyprus
Founded in 2008
SimplyBook.me videos and images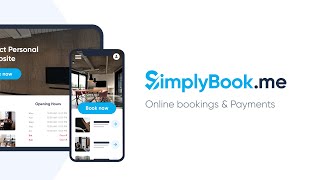 Features of SimplyBook.me
Activity Dashboard
Alerts/Notifications
Appointment Management
Appointment Scheduling
Automated Scheduling
Availability Management
Billing & Invoicing
Booking Management
Booking Notes
CRM
Calendar Management
Calendar Sync
Calendar/Reminder System
Call Reminders
Class Management
Class Scheduling
Client Database
Client Management
Client Portal
Client Profiles
Communication Management
Confirmation/Reminders
Contact Database
Customer Database
Customer Support
Customizable Branding
Customizable Forms
Electronic Payments
Email Marketing
Email Reminders
Event Management
Faculty/Staff Management
For Barbershops
For Gyms
For Martial Arts
For Medical Spas
For Salons and Spas
For Yoga/Pilates Studios
Gift Card Management
Group Reservations
Group Scheduling
HIPAA Compliant
Marketing Automation
Member Communication
Membership Management
Mobile Access
Multi-Location
Online Booking
Online Classes
Online Payments
Online Registration
Parent/Student Portal
Patient Intake
Patient Records Management
Payment Processing
Physician Management
Point of Sale (POS)
Real-time Scheduling
Real-time Updates
Recurring Appointments
Registration Management
Reminders
Reporting & Statistics
Reporting/Analytics
Rescheduling
SMS Messaging
SMS Reminders
SOAP notes
Scheduling
Self Service Portal
Service Catalog
Social Media Integration
Staff Management
Student Management
Third Party Integrations
Two-Way Communication
Website Integration
SimplyBook.me Alternatives
Steven
Owner in US
Verified LinkedIn User
Design, Self Employed
Used the Software for: 1-5 months
Amazing software at an amazing price, FREE!
Comments: I don't use their booking page but I do embed the calendar into my website so everything stays on my site. I personally like how some other calendars look but overall, I can't complain. I was able to customize it to my liking and it sends austomatic email reminders to myself and the people who booked the time. It was very straightforward and it has been used and tested a lot lately and I am very impressed.
Pros:
Being able to customize the product to match my branding was the biggest challenge while I was trying different online booking softwares. SimplyBook.me was the only one that allowed color customization on the free plan. So, I figured the rest would not be good. Boy, was I wrong! This software has gone above and beyond what I expected for a free online booking calendar.
Cons:
The only thing that I am not 100% satisfied with is the look. If I could change the layout of the calendar that would be amazing but for the price, I can't compain and everything works as it is supposed to or better than I expected which is wonderful!
Alternatives Considered: YouCanBook.me, Calendly and Fresha
Reasons for Choosing SimplyBook.me: I was paying monthly for something that I wasn't really utalizing and I wanted to find a cheaper option. I am still trying to grow my business, so I don't have too many online bookings yet, so I felt like I was just trowing away money each month. I liked the look and functionality of YouCanBook.me better however, I love the customization and price of SimplyBook.me and that is why I made the switch.
Switched From: YouCanBook.me
Reasons for Switching to SimplyBook.me: The ability to make some many customization in order to match my brand colors and it was free. In my opinion, there is nothing out there better.
vikram
Founder in Singapore
Verified LinkedIn User
Sports, 11-50 Employees
Used the Software for: 1-5 months
Its a powerful marketing platform and also helps with brand building not just a booking website !
Comments: Writing this review with a sense of gratitude to the people at simplybook.me .
Pros:
We offer a variety of services from hourly bookings to memberships and workshops. The booking platform offers so much flexibility to automate and report all of this in a meaningful way. It gives our customers a seamless experience and makes us look professional. Things like issuing passes for workshops with QR codes really help build our brand and create that perception. For a small organisation like ours it helps level the playing field with some big players who offer such things.What's even better was never had a plan to introduce any loyalty programme but on seeing the feature available decided to introduce it . We slowly moved from seeing simplybook.me as an admin platform to better manage ourselves to seeing it as a powerfull marketing platform which would improve our sales . things like adding book now buttons to social platforms and google business listings do just that.Our Favourite feature was shared resources which helped us list a Turf facility which could be booked in so many different permutations and combinations depending on numbers of people involved and activity it is used for.
Cons:
Our only request to the team is to come up with more integrations to CRM and accounting platforms . At present we use google calendar sync and a few Zaps to push data to our CRM and the accounting part involves some effort to move to our zoho books software.
Alternatives Considered: Calendly, Acuity Scheduling and Zoho Bookings
Reasons for Choosing SimplyBook.me: It did not offer the ability to issue discount coupons and charges were much higher and linked to number of staff / service providers /facilities. It offered a great sync with the CRM we love - Zoho CRM so we adopted it naturally. We use all other ecosystem products like zoho books , zoho social , zoho sales IQ etc.
SimplyBook.me Response
2 months ago
Thank you so much Vicram for taking the time to leave us your valuable feedback - we truly appreciate it We have added this request to our product managers to add integration with the key CRM systems and mentioned Zoho as one of them. All the best The SimplyBook.me team
Verified Reviewer
Owner in US
Verified LinkedIn User
Information Technology & Services, 2-10 Employees
Used the Software for: 1-5 months
Source: GetApp
If you think you will need customer support. STAY AWAY
Comments: I've been in software for over a decade, I've built support teams, taken software to market both small and enterprise for clients and other companies. I very, very rarely write reviews, and even fewer negatively. This experience is just so bad and I've never heard back from an escalation that it's time to "take to the web" so that this can reach someone at SimplyBook.Customer Support is HORRIBLE. By far one of the worst experiences I've had in a long, long time. They appear to be reading off scripts and not really know too much more than that, my latest interaction they tried to have me reconfigure things before even trying to diagnose. They have promised to escalate things and have manger follow-ups - never heard back. I understand if Tier 1 support doesn't know everything, that's fine, but they need to know how to identify and escalate. Support should certainly not be expressing things that are possibilities as not possible - this is one of their annoying lines they give when they just "don't want to do something."The approach for a company that purports to offer "enterprise edition" is just a money grab. e.g. What enterprise software doesn't have an ability to run in test environments and put controls in place? etcWe picked SimplyBook because it checked all the boxes we needed out of the gate. We got our client live. And we will move away as soon as we have time and help make sure our clients do not ever come close to this software again.
Pros:
It's relatively easy to set-up with a comprehensive set of features. If you are just putting things up and do not have much discipline behind your IT processes and follow their templated approaches, it will probably work for you.
Cons:
The features are a big cludgy, the UI is confusing to non-technical users, lacks maturity. It feels like it was made by people who are building one of their first apps without seasoned architects helping guide the structure and process.
Verified Reviewer
CEO in Thailand
Verified LinkedIn User
E-Learning, 2-10 Employees
Used the Software for: 1-5 months
Source: GetApp
The BEST booking system out there. Please keep updating & improving this epic/pioneering software.
Comments: App = incredibly good. iFrame embeds a bit sketchy looking! Wish there was a way for employees to simply update/add to their schedules directly within our website or an app (not simply a homepage shortcut to a website that poses as an app).
Pros:
Incredible tool. So many features. Build epic booking systems.
Cons:
It seems to be something that they do not actively work on, which seems crazy to me. Customer support ([SENSITIVE CONTENT]!) is dire. She sits on her little throne of customer support power/possession and then acts as a mindless, droning, and passive-aggressive gatekeeper for SimplyBook. It makes working with the company a chore, and I would seriously not want to pay money every month with her as our Account Manager. She makes the process of this (incredible!) application, seem hopeless, limited, and dire. You need your first point of contact to laude the company, and care about it deeply! To inspire its customers, and to show them how much of an incredible booking system can be built with SimplyBook.
Alternatives Considered: Setmore, Acuity Scheduling, Booknetic, Bookly and Amelia
Reasons for Choosing SimplyBook.me: SimplyBook has so much more genuinely deep and powerful potential. Incredibly well-coded. User friendly for the service providers (as well as the customers). A truly epic and well-thought-out product, held back by shoddy customer service and a lack of passion at the front gate.
Switched From: Calendly, Setmore and Amelia
Reasons for Switching to SimplyBook.me: Fantastic UI and endless potential with all of the addons. The perfect options for entrepreneurs and business owners looking to "build" a booking system for their business, that suits them and their specific business model. They are endless ways to build a business model that works using their system. PLEASE keep updating, and marketing your product. It is amazing, and far far better than Calendly/Setmore/Acuity and all the big boys, who have absolutely no potential, and incredibly limited coding for serious businesses and booking systems. SimplyBook has it all worked out when it comes to Team Members Scheduling (although this could be better with a simple frontend panel), Classes, Recurring Meetings, Timeslot booking simplicity, Coupons, etc.!
Rikke
Traditional Chinese medicine in France
Alternative Medicine, Self Employed
Used the Software for: 1+ year
Acupuncturist
Comments: It's easy and helps organize my business in three different locations.
Pros:
I love that the program is easy to use and patients find it easy to hook themselves, even the older generation.
Cons:
It's a little unclear on check out for patients when it tells them that they have payed when they have selected pay later.. it should also be able to have two currencies showing on the prices. As I have one part of my business in France and one in UK.