What Is DealCloud?
DealCloud is a data-powered platform delivering vertical-specific solutions that enable financial services professionals to execute deals at the highest levels.
Our platform is purpose-built for financial services firms to be flexible and easily configured to meet the changing needs of capital markets professionals.
More than just a CRM: We provide a single solution to help manage relationships, execute deals, and easily connect with external solutions and third-party data providers.
Who Uses DealCloud?
DealCloud is purpose-built for firms serving in the private capital markets space, including private equity, private debt, investment banking & advisory, limited partners, secondaries, and more.
Where can DealCloud be deployed?
Cloud-based
On-premise
---
About the vendor
DealCloud
Located in Jersey City, US
Founded in 2010
Countries available
Canada, United Kingdom, United States
About the vendor
DealCloud
Located in Jersey City, US
Founded in 2010
Countries available
Canada, United Kingdom, United States
DealCloud videos and images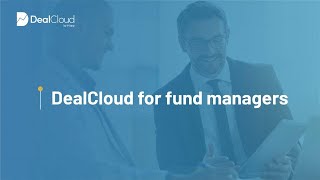 Compare DealCloud with similar products
Features of DealCloud
Activity Dashboard
Activity Tracking
Alerts/Notifications
Budgeting/Forecasting
Campaign Management
Client Management
Collaboration Tools
Compliance Tracking
Contact Management
Dashboard
Data Import/Export
Document Management
Email Management
Email Marketing
For Real Estate
Interaction Tracking
Lead Capture
Lead Management
Lead Qualification
Marketing Automation
Mobile Access
Performance Metrics
Pipeline Management
Referral Tracking
Reporting & Statistics
Reporting/Analytics
Strategic Planning
Supplier Management
Supplier Qualification
Task Management
Territory Management
Third Party Integrations
Verified Reviewer
Analyst - Portfolio Management Group in US
Verified LinkedIn User
Financial Services, 1,001-5,000 Employees
Used the Software for: 1+ year
The Tool I Needed for PE
Comments: Our search fund runs our entire business through DealCloud. It has all the features we need, and combines what was needed from multiple pieces of software into just one product.
Pros:
Our company goes through an unusual amount of intermediaries, and having the ability to split up our communication and deal flow with them versus our proprietary search is great. The ability to filter our information and statistics from our growing pipeline is also great, as it got quite complex with our last CRM.
Cons:
Slightly difficult to use the mobile application versus on the computer. I believe this is a function of the sheer amount of information packed into DealCloud, but it can be pretty difficult to fully navigate on the app at times.
Rob
Managing Director in US
Financial Services, 11-50 Employees
Used the Software for: 2+ years
DealCloud - highly configurable. Excellent support team
Comments: The DealCloud platform is architected for a number of deal making verticals such as PE, IB, specialty lending, etc. But the beauty of the platform is that these "out of the box" use cases can be further configured to our specific business workflows. We have continued to evolve our DealCloud solution as our business evolves. For example, for our first fundraise we did not use a Placement Agent. On our second fundraise, we did. We changed DealCloud to show prospective LPs brought to us from the Placement Agent. In addition, we further customized DealCloud to marry the data elements that our Placement Agent was tracking in their system to the data elements we wanted to show in our system. We also customized DealCloud for a custom deal sourcing methodology we use internally. The system was extremely flexible to accommodate that workflow process. Finally, we have found the DealCloud support team to be very responsive, including addressing our needs after-hours and over the weekend. They understand that we are in a 24x7 business, particularly when we are in diligence on a potential deal. They are available to support us and are fluent in our industry. We aren't speaking with an offshore help desk but rather to the individuals that build and implement solutions.
Pros:
Configurability of the software
Cons:
Looking forward to updates to the user interface
Verified Reviewer
Managing Director in US
Verified LinkedIn User
Financial Services, 11-50 Employees
Used the Software for: 1+ year
Alternatives Considered:
The Art of Over Promising and Under Delivering
Comments: Software itself is fine, the people, not so much. Get your own implementation team that will deal with them as they will spend the bare minimum with you, fall short on designing the implementation, and then blame you for mistakes you should have thought of and encourage you to become a platform manager so you can just finish all the changes by yourself. They said it would take 10-15 hours to implement and I assure you that is not even remotely reasonable if you are exporting 7 years worth of data from an old CRM. It's appalling that changes they were supposed to make in implementation are just passed off as your fault and problem. The do not finish the implementation cleanly either - just hand it off when it's too frustrating to other teams and then you start all over again. To this day I am finding all kinds of fields that are date fields set with addresses as the format. Percentage fields as reference fields to companies. It's endless. List's that were hidden but are extremely useful for us to utilize. But I get to spend my time doing that since we are "post-implementation."
Pros:
Interface looks sleek and is somewhat intuitive. Visuals on dashboards are fantastic if you know how to use them. The ability to link different modules easily is what makes this a superior software - until others catch up. As a former Salesforce Dynamo, Zoho, MS Dymanic user in my career, I can compare this to several industry standard CRM systems and being able to link modules (lists) and generate new lists are great. The system is powerful if you know how to use it and you can customize as needed.
Cons:
The implementation has been poor and completely missed the mark. The initial promises of being able to guide the implementation with advisory on best in class practices fell very short. It is just now, over a year later that my colleague and I recognized a simple solution that would have streamlined efforts greatly between the deal team and marketing customization's. It's so basic that it is shocking that DealCloud did not suggest this solution - but we get to spend the time fixing it now. When the frustration with implementation was expressed, the account managers will begin the blame game. To the point where a very senior person got on the phone and then proceeded to be very patronizing. Another HUGE con is that there are very limited API's in place for this software and others. One of the senior execs will encourage you to go ahead and do an API yourself if you have the technical skillset as DealCloud is open source. DealCloud will also do the API work for you for a huge fee which they then turn around and sell to other clients after you pay for the initial API.
Chris
Managing Partner in US
Financial Services, 11-50 Employees
Used the Software for: 6-12 months
2016 New DealCloud User
Comments: We started our private equity firm in 2016 and the first investment we made was in DealCloud in order to have a cutting edge CRM system for our business. The implementation process was completed on time and on budget, and the customer service to date has been outstanding. DC has become a core operating system used firm wide every day, and is an integral tool for our marketing programs and deal origination efforts. The mobile app is functional, but has plenty of room to improve, and I understand that development work is in process. DealCloud has been a great investment for our firm, in large part due to the very responsive customer service team and how easy the system has been to tailor to our firm's needs.
Pros:
Easy implementation, highly customizable for the needs of our firm, outstanding customer support - as responsive as any CS team that I've worked with to date. DC is the only CRM that we found that was really designed for a lower middle market private equity firm.
Cons:
The mobile app needs to be improved to improve the GUI and ease of adding notes and accessing historical data. Datasheets should be easy to use in any browser and I'd like to get away from the requirement to use Internet Explorer for that functionality.
Verified Reviewer
HR coordinator in US
Verified LinkedIn User
Capital Markets, 11-50 Employees
Used the Software for: 2+ years
Best customer service
Comments: DealCloud has been an amazing addition to our company and we are so happy with our choice.
Pros:
By far the best thing about deal cloud is their customer service. If there is anything you wish you could do within dealcloud, all you have to do is ask and the team will go above and beyond to see if that ask is feasible, and make the changes if possible.
Cons:
Sometimes there are little flukes that happen with the software because of these frequent changes, but they are usually solved very quickly.