15 years helping Singaporean businesses
choose better software
What Is Confluence?
Confluence is a team workspace where knowledge and collaboration meet. It's a central source of truth for fast-moving companies. Confluence keeps everyone organized and aligned with everything from meeting notes to strategy docs and IT documentation so they can make better decisions faster and be more responsive to change. Confluence integrates seamlessly with the Atlassian suite of products like Jira Software and Trello, and allows for endless customization with apps from our Marketplace.
Who Uses Confluence?
Today all kinds of functional departments of any size use Confluence, from technical teams and project management groups, to marketing, HR, legal, and finance. All teams get work done with Confluence.
Where can Confluence be deployed?
Cloud-based
On-premise
---
About the vendor
Atlassian
Located in San Francisco, US
Founded in 2013
Confluence support
Phone Support
24/7 (Live rep)
Chat
Confluence pricing
Starting Price:
US$55.00/month
No free trial
Yes, has free version
Confluence has a free version and does not offer a free trial. Confluence paid version starts at US$55.00/month.
Pricing plans
get a free trial
About the vendor
Atlassian
Located in San Francisco, US
Founded in 2013
Confluence support
Phone Support
24/7 (Live rep)
Chat
Confluence videos and images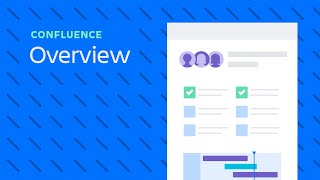 Features of Confluence
@mentions
API
Access Controls/Permissions
Activity Tracking
Alerts/Notifications
Archiving & Retention
Assignment Management
Brainstorming
Calendar Management
Cataloging/Categorization
Collaboration Tools
Commenting/Notes
Communication Management
Content Management
Content Publishing Options
Customizable Branding
Customizable Templates
Discussions/Forums
Document Capture
Document Classification
Document Management
Document Storage
Documentation Management
Drag & Drop
Email Management
Feedback Management
File Sharing
For the IT sector
Full Text Search
Gantt/Timeline View
Goal Management
Goal Setting/Tracking
Idea Management
Ideation
Innovation Management Software
Knowledge Base Management
Knowledge Management
Marketing Calendar
Milestone Tracking
Mobile Access
Portfolio Management
Prioritization
Process/Workflow Automation
Product Lifecycle Management
Product Roadmapping
Progress Tracking
Project Management
Project Planning
Project Planning/Scheduling
Real-Time Chat
Reporting/Analytics
Reporting/Project Tracking
Requirements Management
Resource Management
Rich Text Editor
Search/Filter
Self Service Portal
Stakeholder Defined Attributes
Status Tracking
Strategic Planning
Surveys & Feedback
Task Management
Task Progress Tracking
Template Management
Text Editing
Third Party Integrations
Time & Expense Tracking
Traceability
Transcripts/Chat History
Unified Directory
Version Control
Visualization
Workflow Management
Jessica
Technical Program Manager in US
Verified LinkedIn User
Computer Software, 501–1,000 Employees
Used the Software for: 2+ years
Reviewer Source
Confluence, My Most Reliable Tool
Comments: It's been incredible and we've been slowly breaking away from random documents in inboxes, desktops, Sharepoint, OneDrive and centralizing the information. It's been amazing.
Pros:
#1 I love Confluence, as it's so user friendly and so simple to use. I've taken it and built out the structure at my new company, as well as previous ones to make our shared Confluence space a HUB for our Documentation, Meetings Customers/Projects/Team, Resources, Planning, you name it. It's so easy and it's a great way to keep everyone informed and involved. AND you can customize how it looks.
Cons:
Not much I dislike. Maybe if I could have a few more customization options, but that is about it.
Florea
Product Owner in Germany
Information Technology & Services, 5,001–10,000 Employees
Used the Software for: 2+ years
Reviewer Source
Excelent tool with good Admins and Users
Comments: I personally had a wonderful experience with Confluence, it was a easy one link way to add most resources required (Gantt charts , project plans, date/time for Program Management timelines and mixed together you get a easy to use tool that is great at its core but with heavy customization it becomes even more awesome).You can basically start from a white blank page and end up doing a project charter with 2 attached Gantt charts, with 3 Children pages and 7 Pie Charts.
Pros:
It is easily accessible and you have loads of feature to customize your knowledge(renging from Tables , custom built Boards and even Linking tickets makes it a very straight forward solution for knowledge capture) pages or project management files , tools are easy to integrate and work with (highly recommend a cooperation with Jira , as they work very well togather.)
Cons:
Administration part can be a pain from time to time , unless you know exactly what roles are correct , it can become a bit confusing .
Alternatives Considered: monday.com
Reasons for Switching to Confluence: Past experience working with it on multiple companies.
Richard
Learning Development Manager in US
Verified LinkedIn User
Computer Software, 51–200 Employees
Used the Software for: 1+ year
Reviewer Source
Great for collaboration, terrible as a knowledge base
Comments: It puts documentation all in one place.
Pros:
We use the cloud version for customer facing knowledge base (KB). A great tool for creating and maintaining documentation and how-to articles. Allows for numerous contributors, there are a lot of add-ons for features and functionality within a document. Syncs well with other Atlassian tools. Theme controls are fairly robust. The search is in depth and comprehensive, returns results from tags and body of a page or article. User community and KB is very helpful and responsive.
Cons:
Our users are our customers, so inviting confusing and creating users is convoluted and limited. Once you designate the space as a KB, Confluence should provide user access in a way unique to a KB, but it the invitation process is still worded like a collaboration tool AND emails are NOT customizable. Users get bombarded by emails when a page is updated. The default setting is to have all users automatically watching the entire space, so when any update is made multiple emails are sent. You CANNOT set the user or group defaults for email preferences. SSO capabilities are not available in the cloud version. The user web service is severely limited and does not solve the issue. While there are a ton of add-ons from the marketplace, they are all 3rd party and these can deliver way more than Atlassian's supported offerings. This was a pro, but the con is that they are also limited to what they can tie into. We tried to use a theme from the market place, but it did not support the comprehensive search capabilities, only returned tags. Admin navigation is confusing, I use the product every day, yet I am constantly fumbling around trying to find where to go to do what I'm trying to do.
Nanaka
Infrastructure Specialist in Japan
Verified LinkedIn User
Financial Services, 10,000+ Employees
Used the Software for: 1+ year
Reviewer Source
Confluence emerges as a versatile collaboration tool with distinguishing features
Comments: Structured content creation has transformed the way our team gathers and disseminates information. Our workflow has been unified due to the smooth integration with our existing products, which has increased efficiency and reduced the need for continual context switching. The adaptability of Confluence is extremely empowering.
Pros:
Confluence is a dynamic collaboration tool that enables teams to easily create, share, and interact. Its capabilities for structured content development and integration improve productivity and knowledge sharing. While improving its learning curve and multimedia features would enhance the experience, Confluence's overall benefits make it a valuable asset for companies seeking to improve collaboration. For starters, its dynamic and structured approach to content production enables teams to develop, organize, and share material in real-time. This encourages knowledge sharing and speeds up project progress. Confluence's integration features help to streamline workflows by connecting with a wide range of applications, resulting in a more cohesive and efficient work environment.
Cons:
The platform's sophistication may present a minor learning curve for novices, particularly those unfamiliar with collaborative software. Furthermore, while Confluence excels at text-based material, its multimedia embedding and formatting choices may be improved to provide a more aesthetically engaging experience.
Alternatives Considered: Notion
Reasons for Choosing Confluence: The requirement for a complete collaboration platform motivated our decision to use Confluence. We previously relied on disparate documentation tools, which hampered effective communication and information retrieval. Confluence's organized content foundation made this process more accessible, and its interaction with the products we already use made the transfer smooth and productive.
Switched From: Basecamp
Reasons for Switching to Confluence: Confluence was chosen because of its capacity to improve cooperation and knowledge exchange. We were able to develop extensive documentation and resources using the structured content strategy, which aided in the seamless execution of the project. Furthermore, the platform's integration features ensure that our work ecology remains coherent, avoiding data silos and increasing overall efficiency.
Linda
Human Resources Generalist in US
Verified LinkedIn User
Hospital & Health Care, 5,001–10,000 Employees
Used the Software for: 2+ years
Reviewer Source
Excellent knowledge base and group collaboration platform
Comments: I appreciate the simplicity of the Confluence platform because it has been really helpful to my company. The intuitive design makes it simple to disseminate internal communications and choices made in meetings.
Pros:
It's the greatest centralized location for everyone involved in a project or at a company to store, share, and retrieve information and data. It's helpful for teamwork because it's simple to edit, it syncs with Jira, and it can provide useful visual representations of data.
Cons:
The design of Confluence just seems archaic and cumbersome to me. It's also difficult to allow access, and to copy and paste across other applications like Microsoft Office.