What Is ProntoForms?
Empower your field employees to reliably complete complex inspections, audits, and other tasks on the first visit. ProntoForms is the leader in enterprise-grade mobile forms. Built with field teams at front of mind, ProntoForms makes real-time, accurate data collection fast and easy, even offline. Our low-code solution integrates seamlessly with your back-office systems and cloud services. ProntoForms is simple to deploy with no service interruptions and scales easily into any business process.
Who Uses ProntoForms?
Organizations looking to eliminate paper processes, increase technician productivity, and accelerate their digital transformation in the office and field. Customers include leading field enterprises.
Where can ProntoForms be deployed?
Cloud, SaaS, Web-based, Android (Mobile), iPhone (Mobile), iPad (Mobile)
About the vendor
ProntoForms
Located in Ottawa, Canada
Founded in 2001
Phone Support
Languages
English, French, German, Spanish
About the vendor
ProntoForms
Located in Ottawa, Canada
Founded in 2001
Phone Support
Languages
English, French, German, Spanish
ProntoForms videos and images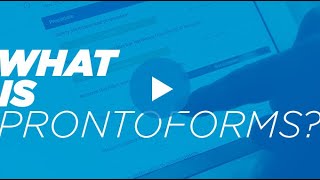 Compare ProntoForms with similar products
Features of ProntoForms
API
Abbreviation Detection
Access Controls/Permissions
Accident Investigation
Accounting Integration
Alerts/Notifications
App Management
Appointment Management
Approval Process Control
Audit Management
Audit Trail
Autofill
Barcode / Ticket Scanning
Business Process Automation
Code Enforcement
Collaboration Tools
Compliance Management
Compliance Tracking
Corrective and Preventive Actions (CAPA)
Customer Database
Customizable Fields
Data Aggregation and Publishing
Data Capture and Transfer
Data Import/Export
Data Quality Control
Data Replication
Data Retrieval
Data Verification
Deployment Management
Dispatch Management
Document Classification
Document Imaging
Document Management
Drag & Drop
Electronic Forms
Electronic Signature
Equipment Management
Equipment Tracking
Fixed Asset Management
For Mechanical Equipment
For No-Code Development
Forms Creation & Design
Forms Management
GPS
Graphical User Interface
Graphical Workflow Editor
Image Capture
Incident Management
Incident Reporting
Inspection Management
Integrated Development Environment
Integrations Management
Inventory Control
Inventory Management
Iteration Management
Job Costing
Job Management
Logistics Management
Maintenance Management
Maintenance Scheduling
Mobile Access
No-Code
OSHA Recordkeeping
Occupational Health Management
Offline Access
Optical Character Recognition
Order Management
Performance Metrics
Pre-Built Modules
Pre-built Templates
Preventive Maintenance
Process/Workflow Automation
Project Management
Quality Management
Quotes/Estimates
Real Time Data
Real-time Updates
Remote Access/Control
Remote Data Capture
Report Templates
Reporting/Analytics
Risk Assessment
Risk Management
Scheduling
Service History
Space Management
Task Management
Templates
Third Party Integrations
Training Management
Visual Modeling
Web/Mobile App Development
Work Order Creation
Work Order Management
Workflow Configuration
Workflow Management
Rajendra M.
Senior Programmer in US
Verified LinkedIn User
Hospital & Health Care, 501-1,000 Employees
Used the Software for: 2+ years
Easy to configure, create forms, create users, create roles, give access, feeding data, API
Comments: Signing up the member without using paper form. That avoid the data re-entry.
Pros:
I have been supporting the ProntoForms Application from 4 years. All features are very easy to use and manage. All features are very effective. Users iPad might have different forms. Even a forms that has 7 pages, no issue at all. I worked on API to push data for the forms into iPad. Users submit the records and will back to the server to automatic feed into database. Customize whole cycle was great and success. Creating Users, Creating roles, security access, creating form space and forms are very easy. All features to create form are there. Customize forms can be create easily.
Cons:
As a software engineer, I don't see any cons on this application. But I see that a user can use either iPad or iPhone. One user cannot use both. If user want to use both there will be two license and two user. If a user can use at least two devices from same license and same user name that will great.
Fred C.
biomedical engineer in Mexico
Verified LinkedIn User
Retail, Self Employed
Used the Software for: 1-5 months
What is my experience with ProntoForms?
Comments: It's good, I consider for keep for a time.
Pros:
So, It's very interesting this software, the colors, the frame position. I like because, first, we can use in a smartphone and develop advanced surveys. Also, I love that we can connect with a differents type of cloud for example G suit (I personally use) or even Dropbox, organizing and obtaining the analysis hoped. Finally, It's too easy for start and I consider essential for a SEO plan, marketing, advertising and all is in real time.
Cons:
It can be better, for example the settings option need be more visible. Sometimes, the connection is gone.
Glenn S.
Safety Manager in US
Utilities, 201-500 Employees
Used the Software for: 6-12 months
Source: SoftwareAdvice
Not a fan
Comments: There isn't many positives I can convey. I have developed safety audits for several companies, using both Predictive Solutions and iAuditor, both of which I prefer. Pronto Forms was a program that our parent company went to and wanted to be consistent and pushed it out to all of it's subsidiary companies; so I had no choice. Creating the form was no problem, however we aren't a company that is at a site for multiple months at a time, we may only be at a project for 2-3 days, and we are constantly moving employees around, which means every time you do this, you have to update your form, then ensure all the users sync the data for it to show up before they use it again. When trying to use the data, it's pointless. You enter data on the Pronto Forms site, then you have to go to a different website to get your data. Predictive Solutions is obviously the Cadillac of Safety auditing software, the one fault with them I have is that if you have to make changes, it isn't as easy as making the changes yourself, you send them into your contact for them to make the changes. Pronto Forms gives you that freedom, I will give them that, but still, as the administrator of these forms as well as having my main job function, unless you are a company that hires someone specifically to manage the Pronto Forms entry and collection, I would steer clear. As soon as our contract is up, we will be going back to iAuditor, which is far less expensive, allows up to three user devices per user (being an admin, I have to change devices regularly, and each time, it locks me out of the other device I am using). I hate giving a company a bad review, but what we were sold on and what the final product was, is light years away from each other.
Pros:
It's really rather simple to create a file; If you only want to create a form and just plug and play without the need for continuous updates (of say foreman, employees, etc.) then it's a pretty decent program to use.
Cons:
If you have to change data in files frequently, its a pain; the analytic statistics aren't even in the same program; If you have specific customization data needed, based on site, if you have more than five sites, it's horrible to find any use of this data.
Pat Response
3 years ago
Hi Glenn, We're sorry to hear that your deployment hasn't gone as expected. Our Customer Success Team has reviewed your feedback and would love the opportunity to connect with you as we feel highly confident that after a review of your implementation and requirements we will be able to resolve the issues you've been experiencing. Please reach out to [email protected] with the subject line 'Software Advice' and we'll go from there. All the best, Pat @ ProntoForms
Brett M.
Account Manager in US
Security & Investigations, 501-1,000 Employees
Used the Software for: 2+ years
ProntoForms is a very useful tool in our business.
Pros:
It is easy to use, mobile and the distribution is flawless.
Cons:
It is very easy to use and the integration to our system was very easy.
Patricia a R.
Manager - Business Data Analysis - Pronto Forms in US
Verified LinkedIn User
Facilities Services, 5,001-10,000 Employees
Used the Software for: 2+ years
The Best Customizable software out there for mobile forms
Comments: We are continuously working with Pronto Forms to make this software the best it can be to suit ours and other companies needs.
Pros:
That we can customize it to our needs. The flexibility and the technical advances of the way we can do things. Being able to incorporate signatures, pictures, calculations, geostamps and much, much more.
Cons:
I can't think of anything that we don't like considering they take into consideration what we don't like and try to make it better for us.