OpenCRM
What Is OpenCRM?
Manage your sales, grow your business, and increase profits. In OpenCRM, you have all the tools you need to run your business from a single system. From your Sales Process to Customer Service right
Read more
through to your Email Marketing, its all right here at your fingertips.
Read less
Who Uses OpenCRM?
Mid market businesses. Companies that want to manage their sales, grow the business and make more profit - plus a lot more.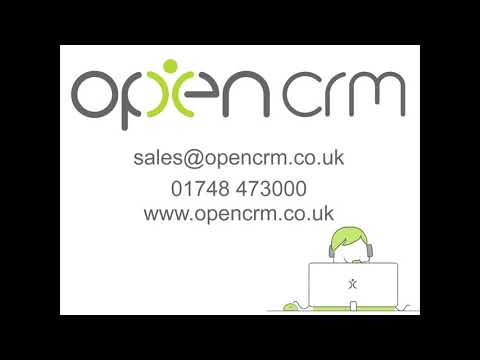 Not sure about OpenCRM? Compare with a popular alternative
Not available in your country
Michael
Web Developer in UK
Verified LinkedIn User
Internet, Self Employed
Used the Software for: 1+ year
A fantastic CRM
Comments: I decided to go with OpenCRM to keep track of my business admin. I have found it indispensable for managing my projects, contacts and invoices. I previously relied on spreadsheets and text files, but the move to OpenCRM has helped tie everything together.
Pros:
Keeping track of projects and invoices, simplicity, ease of use, calendar functionality, integrations , customer service and help
Cons:
When I was first setting up, things took a while as I am quite a basic user. There were a lot of settings to switch off that I didn't need.
OpenCRM Response
2 years ago
Thank you so much for leaving your review, Michael! It's a pleasure to have you as part of the OpenCRM community Reach out to us if we can do anything else for you at all
Michelle
Operations Manager in UK
Information Technology & Services, 11-50 Employees
Used the Software for: 2+ years
Alternatives Considered:
Easy to customise
Comments: OpenCRM is a fantastic mid-market CRM system, complete with helpdesk, invoicing, quoting, opportunity tracking, lead tracking, project tracking and email campaign functionality. It is certainly great value for money and the team really do care and want to assist you to get the most out of it.
Pros:
OpenCRM is incredibly easy to use and customise from views, to layouts to templates to workflows. The FAQ articles and support from the team at OpenCRM is fantastic. The product itself is continually developing and each feature enhancement makes it better and better.
Cons:
OpenCRM doesn't integrate amazingly well with other technologies, but it is getting their with the new Office 365 integration, Xero/Sage integration, Clicdata for dashboards, zapier for other integrations. It's a genuine work in progress. but the team are always willing to help. And the jotform integration for webforms was really stable.
OpenCRM Response
last year
Thank you so much for leaving us a review, it's hugely appreciated! If there were specific areas you were struggling with, in terms of integrating with a 3rd party software, please don't hesitate to reach out to us and we can look at how best to explore any imitations you might be coming up against. Thank you again for leaving us such a lovely review :-)
Verified Reviewer
Techncial Sales Manager in UK
Verified LinkedIn User
Environmental Services, 11-50 Employees
Used the Software for: 2+ years
Not the best
Comments: Not great. Our company has been using for a few years and as we have grown its failings have become more frustrating and apparent. We are changing CRM.
Pros:
it has all the features you would expect of an online CRM
Cons:
Its badly laid out and very buggy. We kept coming across things that didnt work. when we reported these bugs OpenCRM admitted they didn't work but if we wanted that functinoality we would have to pay for it. The email program is very bad and barely functions. The reporting system is also overly complex
OpenCRM Response
2 years ago
Thank you for taking the time to give your feedback. I am genuinely sorry that your experience was not like the many hundreds of other comments we have received about our product and services. My name is Graham, and I am the Managing Director over at OpenCRM. OpenCRM does not have an email client, so we were left a little puzzled by your comment stating that our email program is 'very bad and barely functions'. It's always disappointing when we have been unable to quantify the areas that you were struggling with, and for that, I can only apologise. Our goal is a bug-free experience for our thousands of users. To clarify, we have never charged for bug fixing, and our approach to feedback around areas of the system that have genuine issues has always been to embrace the feedback to make our product better for our whole community. If you're open to discussing this further, please give me a call. I would be pleased to catch up and discuss any options that we might have in the future.
Jamie
Internal Sales Support in UK
Medical Devices, 11-50 Employees
Used the Software for: 2+ years
Alternatives Considered:
Great tool for Customer Relationship Management
Comments: We use OpenCRM every day and record just about everything that go's on in the company through this system. It is a critical piece of software for us and we are very happy to have found this tool.
Pros:
There are features within the software that are really critical to our business such as the contact management and email marketing options and just about everything gets recorded some way within OpenCRM. it is very user friendly and straight forward to use and it was implemented very easily into our company. The customer support is also great over the phone or chat and usually can sort any problem you may have fairly quickly.
Cons:
OpenCRM is very customisable and if something is missing or if you want to implement something yourself it can be done by the support team very quickly as we have done in the past on a few occasions.
OpenCRM Response
last year
Thank you so much for taking the time to leave us a review! We are always very happy when we read about OpenCRM being used so universally within a business and we are very proud of our price point, so thank you for highlighting this within your review. If there is anything else we can do for you, please reach out to us directly, and thank you again for taking the time to let a wider audience know about the benefits of using OpenCRM
Marc
Client Manager in UK
Facilities Services, 11-50 Employees
Used the Software for: 2+ years
Alternatives Considered:
Perfect CRM System for a Small Bussiness
Comments: As a Business we are extremely happy with our partnership with OPenCRM and would recommend this company. There customer service is second to none.
Pros:
When choosing a CRM platform we wanted a platform that could be moulded to the way we do business rather then a off the shelf product. Since introducing OPenCRM into our business in 2014. We have not been disappointed the majority of the modules are ideal for our set up and where needed have been customised to fit our needs.
Cons:
Some aspects of the system can be confusing however a quick call to the support desk normally clears up the confusion.
OpenCRM Response
last year
Thank you so much Marc for leaving us such a brilliant review! It's hugely appreciated! Our long-standing clients, such as yourselves, are very important to us, so thank you for sticking with OpenCRM! If there is anything else we can do for you, please reach out to us, we are always happy to help