What Is Acuity Scheduling?
Meet the personal assistant for your schedule (only better) that works 24/7, behind the scenes to fill your calendar and take work off your plate. From the moment clients book with you, Acuity is there to automatically send branded & customized booking confirmations, deliver text reminders, let clients reschedule on their own, and process payments so your day-to-day runs smoother even as business get busier. All you need to do is show up at the right time.
Who Uses Acuity Scheduling?
Fitness businesses of any size that provide classes and private sessions
Where can Acuity Scheduling be deployed?
Cloud-based
On-premise
---
About the vendor
Squarespace
Founded in 2007
Acuity Scheduling support
Acuity Scheduling pricing
Starting Price:
US$15.00/month
Yes, has free trial
No free version
Acuity Scheduling does not have a free version but does offer a free trial. Acuity Scheduling paid version starts at US$15.00/month.
Pricing plans
get a free trial
About the vendor
Squarespace
Founded in 2007
Acuity Scheduling support
Acuity Scheduling videos and images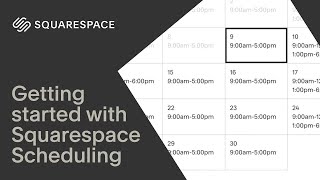 Features of Acuity Scheduling
Accounting Integration
Alerts/Notifications
Appointment Management
Appointment Scheduling
Attendance Management
Attendance Tracking
Automated Scheduling
Availability Management
Billing & Invoicing
Booking Notes
CRM
Calendar Management
Calendar Sync
Calendar/Reminder System
Class Management
Class Scheduling
Client Database
Client Management
Client Portal
Client Profiles
Communication Management
Confirmation/Reminders
Contact Database
Customer Database
Customizable Branding
Customizable Forms
Customizable Templates
Document Management
Driver Scheduling
Electronic Payments
Email Reminders
Event Management
Fitness Plan
For Accountants
For Barbershops
For Martial Arts
For Medical Spas
For Optometrists
For Salons and Spas
For Yoga/Pilates Studios
Forms Management
Gift Card Management
Group Reservations
HIPAA Compliant
Inventory Management
Membership Management
Mobile Access
Mobile App
Multi-Location
Multiple Appointment Types
Online Booking
Online Payments
Online Registration
Online Scheduling
Patient Intake
Patient Management
Patient Records Management
Patient Scheduling
Payment Processing
Performance Metrics
Physician Management
Progress Tracking
Real Time Updates
Real-time Scheduling
Recurring Appointments
Reminders
Reporting & Statistics
Reporting/Analytics
Rescheduling
Revenue Management
SMS Messaging
SMS Reminders
SOAP notes
Scheduling
Social Media Integration
Student Management
Task Management
Third Party Integrations
Virtual Meetings
Website Integration
Acuity Scheduling Alternatives
Reviews of Acuity Scheduling
Cory
Owner in US
Verified LinkedIn User
Management Consulting, Self Employed
Used the Software for: 2+ years
Reviewer Source
Acuity Scheduling is my best pal
Comments: Overall, I love Acuity Scheduling, it's my right hand in this business I'm running by myself. It takes a huge load off of my plate. Once things are set up - which can be as easy or a grueling as you want to make it - it's just a seamless part of my life and business.
Pros:
I love the customizability of the software, I can integrate it with many programs, and I can make things super simple for my clients.
Cons:
I've had several times where I've had to go delete a whole series of appointments and there's no easy option to delete an entire section of appointments. For instance I had a series of webinars that were Group Appointments with several dates each. I decided to discontinue that program in lieu of a new direction and initiative for the company. I had to manually delete each one, typing DELETE each time. If I could delete an entire "category" of appointments, this would be much better.
Alternatives Considered: Calendly
Reasons for Switching to Acuity Scheduling: Acuity Scheduling was already available and easily integrated into my Squarespace website. This was good because I decided that I didn't want to create a website from scratch, rather I would use a "drag and drop" system with some customizability. It just so happened that Squarespace met my needs there, AND as a vital part of their services, they already had a scheduling application that I would receive a DISCOUNT on if I bought into their services. Squarespace, and of course Acuity Scheduling, were a "no-brainer" decision for me and my solo consulting business.
Claire
Senior Social Media Editor in US
Online Media, 51–200 Employees
Used the Software for: 2+ years
Reviewer Source
An Excellent Appointment Scheduling Solution
Comments: I have been using Acuity Scheduling for a few years now and it has been a great experience. It is easy to use and has all the features I need for my business. The customer service and support is excellent, so any problems I have can be quickly taken care of. The only downside is the cost, but it is worth it for the convenience and reliability.
Pros:
Acuity Scheduling is an excellent appointment scheduling solution that is easy to use, intuitive, and reliable. It has a great range of features and integrations, making it perfect for businesses of all sizes. It also has excellent customer service and support, so any problems or questions can quickly be taken care of.
Cons:
The only downside to Acuity Scheduling is that it can be a bit expensive, especially if you need to use multiple features and integrations. However, the cost is worth it for the convenience and reliability of the service.
Emily
Director of Marketing & Operations in US
Management Consulting, 2–10 Employees
Used the Software for: 1+ year
Reviewer Source
Acuity Review
Comments: Loved it, but Acuity is not with the times and the technology wasn't modern enough to continue to trust it and use it for our business.
Pros:
I like how the admin has great control over the backend and has full use and capability. I also like the ability to brand everything.
Cons:
It doesn't natively integrate with third-party calendars. We had to switch to Calendly solely because of this reason.
Alternatives Considered: Calendly
Reasons for Choosing Acuity Scheduling: At the time, I wasn't in charge of the switch from Calendly so I'm unsure. I just know that at that time Acuity fit our company better than Calendly, but now we've switched back to Calendly.
Switched From: Calendly
Reasons for Switching to Acuity Scheduling: Unsure because I wasn't a decision-maker at the time. I believe it was because the admin features on the backend were far more developed than Calendly and admins had the complete control necessary.
Alyssa
Human Resources Generalist in US
Verified LinkedIn User
Hospital & Health Care, 10,000+ Employees
Used the Software for: 2+ years
Reviewer Source
Great for staying organized with appointments
Comments: The ability to specify your availability and provide a link to a client via email or a signature is fantastic. It fulfills my requirements for class registration and roll management perfectly. Also, it works flawlessly and is beautifully linked with other services like Stripe and Zoom.
Pros:
Both I and my customer appreciate the text message reminders. The schedules that require payment. Furthermore, I appreciate being able to sync my CRM with several scheduling options. Appointment kinds help me categorize my replies and create more efficient, tailored work flows.
Cons:
My list of dislikes is surprisingly short. My main issue is that I keep leaving Acuity Scheduling to try something else, but I always end up back here because my CRM doesn't have nearly as many capabilities as Acuity Scheduling.
Emilio
Dir Comercial in Mexico
Verified LinkedIn User
Business Supplies & Equipment, 11–50 Employees
Used the Software for: 6-12 months
Reviewer Source
Get Scheduling !
Comments: Is a powerful scheduling solution that offers a user-friendly interface and a wide range of features to help businesses of all sizes manage their appointments efficiently.It is a cloud-based scheduling software that offers a range of features and benefits for businesses of all sizes and industries. Its core functionality is appointment scheduling, which allows businesses to offer online booking for their clients, reducing the likelihood of double bookings or scheduling conflicts.
Pros:
It is a reliable and flexible scheduling solution that offers a range of features and benefits for businesses of all sizes and industries.User-friendly, customization, integration, timezone detection, mobile access, HIPAA compliant and customer support.
Cons:
While there are some limitations to Acuity Scheduling, most users find it to be a reliable and flexible scheduling solution that offers a range of benefits and features.Limited free plans, customization limitations, and the pricing structure, sometimes it is confusing or difficult to navigate, particularly with regard to the different pricing plans and add-ons available, third-party integrations and no recurring appointment scheduling.