What Is Fishbowl?
Elevate your inventory management with real-time data while reducing costs and maximizing profitability. Fishbowl's complete manufacturing and inventory management solution automates and simplifies the manufacturing process. Fishbowl's inventory management includes advanced work orders, material requirements planning (MRP), bills of materials, barcode scanning, and can be easily deployed on-premise or hosted in the cloud.
Who Uses Fishbowl?
Fishbowl is the #1 Manufacturing and Warehouse Management Software that seamlessly integrates with QuickBooks and offers secure & cost-effective inventory management to manufacturers and so much more.
Where can Fishbowl be deployed?
Cloud-based
On-premise
---
About the vendor
Fishbowl
Located in Orem, US
Founded in 2001
Countries available
Australia, Canada, United States
Fishbowl pricing
Starting Price:
Yes, has free trial
No free version
Fishbowl does not have a free version but does offer a free trial.
Pricing plans
get a free trial
About the vendor
Fishbowl
Located in Orem, US
Founded in 2001
Countries available
Australia, Canada, United States
Fishbowl videos and images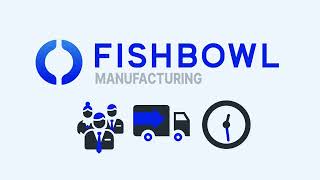 Features of Fishbowl
3PL Management
API
Accounting
Accounting Integration
Alerts/Notifications
Asset Lifecycle Management
Asset Tracking
Audit Trail
Automated Scheduling
BOM Creation
Backorder Management
Barcode/Ticket Scanning
Barcoding/RFID
Barrel Management
Billing & Invoicing
Bills of Material
CRM
Capacity Planning
Cataloging/Categorization
Cellar Management
Channel Management
Check-in/Check-out
Contact Database
Cost Tracking
Customizable Reports
Customization
Data Import/Export
Delivery Management
Demand Forecasting
Document Management
Employee Management
Expiration Date Management
Financial Management
For Retail
For Small Businesses
Forecasting
Integrated Business Operations
Inventory Auditing
Inventory Control
Inventory Management
Inventory Optimization
Inventory Tracking
Item Management
Kitting
Label Templates
Material Requirements Planning
Mobile Access
Multi-Channel Management
Multi-Location
Order Entry
Order Fulfillment
Order Management
Order Tracking
Point of Sale (POS)
Product Identification
Production Scheduling
Production Tracking
Purchase Order Management
Purchasing & Receiving
Quality Management
Quotes/Estimates
Real Time Data
Receiving/Putaway Management
Recurring Orders
Reorder Management
Reporting & Statistics
Reporting/Analytics
Retail Inventory Management
Returns Management
Sales Forecasting
Sales Orders
Sales Reports
Search/Filter
Serial Number Tracking
Shipping Labels
Shipping Management
Status Tracking
Supplier Management
Supply Chain Management
Task Scheduling
Third Party Integrations
Traceability
Transportation Management
Vineyard Management
Warehouse Management
Work Order Management
Workflow Management
eCommerce Management
Ed
Web Designer/Developer/Small Business Tech Support in US
Verified LinkedIn User
Retail, 11–50 Employees
Used the Software for: 2+ years
Reviewer Source
Powerful, Affordable Inventory and Order Management Software
Comments: Stated simply, Fishbowl is the best in it's class, period! Easy to use, incredibly effective and affordable Inventory and Order Management Software.
Pros:
Fishbowl offers and unparalleled ease of use. Our whole team was trained and up and running in hours. You simply won't find another software package with the range of features and reliability at this price range. It easily bests other software packages costing 3 times what Fishbowl costs!
Cons:
Their call back support could be a little faster, but it's still likely better than most software companies.
Lawrent
Owner in France
Verified LinkedIn User
Education Management, 2–10 Employees
Used the Software for: Free Trial
Reviewer Source
Flexible Inventory Management with Comprehensive Third-Party IntegrationsThere are several advantage
Comments: As an inventory manager, Fishbowl can help me solve several common business problems, such as accurately tracking inventory levels, reducing the risk of stockouts, and improving order accuracy. Additionally, Fishbowl's integrations with accounting software and e-commerce platforms can help me streamline my business processes, reducing errors and improving efficiency. Finally, Fishbowl's cycle counting and inventory reporting features can help me identify trends and make informed decisions about inventory management.
Pros:
There are several advantages of using Fishbowl as an inventory management solution.Fishbowl offers a wide range of features that can meet the needs of many businesses, such as multi-location inventory management, kitting and bill of materials management, and cycle counting.Thanks to its robust third-party integrations with popular accounting software, e-commerce platforms, and other business tools, it also offers a high degree of flexibility.Additionally, Fishbowl's user-friendly interface helps us streamline inventory management processes, reducing errors and saving time.Finally, Fishbowl provides excellent customer support, which can help businesses overcome any issues they encounter while using the software.
Cons:
While Fishbowl offers many advantages, there are some potential drawbacks that we had to consider. One possible con is that the software can be complex to set up and use, which could be challenging for businesses without dedicated IT resources like us. Also, while Fishbowl offers a high degree of flexibility, this can also lead to a higher degree of complexity, which may not be suitable for all businesses.
Alternatives Considered: QuickBooks Desktop Enterprise
Reasons for Switching to Fishbowl: One option is QuickBooks Desktop Enterprise with Advanced Inventory, which offers robust inventory management features and integrates with QuickBooks accounting software.
Taylor
Director of Sales in US
Apparel & Fashion, 11–50 Employees
Used the Software for: 1+ year
Reviewer Source
Source: SoftwareAdvice
I would not recommend this Software to anyone!
Comments: The software overall is extremely outdated. I would not recommend this to anyone.
Pros:
Inventory tracking is mediocre at best - A pro was required for the review.
Cons:
Customer service is terrible. Once you sign up and pay thousands for their system, they virtually tell you to "figure it out yourself". Information from QuickBooks to Fishbowl does not properly transfer. The invoicing process is extremely cumbersome. There are a lot of unnecessary steps when invoicing and processing orders. To edit invoice lines is extremely difficult. You cannot edit invoices once they have been processed. Printing and formatting (two very simple things) have been overly difficult with this program. We have had to reach out to Fishbowl numerous times to have the system tailored to our needs.
Rob
TI Managament in Nigeria
Information Technology & Services, 501–1,000 Employees
Used the Software for: 6-12 months
Reviewer Source
the best in social networking app.
Comments: It's important to note that the term "Fishbowl" may have other uses or applications depending on the context, but these are the most common ones.It's worth noting that the advantages mentioned may vary depending on the specific use case and the needs of the users or organization.
Pros:
Professional Networking: Fishbowl (the social networking app) provides a platform for professionals to connect with others in their industry. It allows users to join specific industry-related groups or "bowls," which creates opportunities to network, exchange ideas, and learn from others in similar roles or sectors.Anonymity and Privacy: Fishbowl (the social networking app) offers the option of posting and commenting anonymously. This feature allows users to freely express their thoughts, ask sensitive questions, or discuss topics without revealing their identity. It can foster honest and open conversations while maintaining privacy.
Cons:
Limited Reach: The popularity and user base of Fishbowl (both the social networking app and team collaboration tool) may vary depending on the specific industry or organization. This limited reach could result in a smaller pool of professionals or teams to connect and engage with. If the desired network or collaboration opportunities are not available within the Fishbowl community, it may limit the overall usefulness of the platform.Lack of Diversity: Fishbowl communities, particularly the social networking app, tend to attract professionals from specific industries or sectors. This can lead to a lack of diversity in terms of perspectives, experiences, and backgrounds. It's important to consider that the insights and discussions within the app may be biased or limited to a particular subset of professionals.
Consumer Goods, 11–50 Employees
Used the Software for: 2+ years
Reviewer Source
Sales, Point of Sales, Inventory, & Manufacturing
Comments: It has been very positive from the beginning. Support has been great as well as my sales manager.
Pros:
Can be used in multiple locations via server. UPS integration. Accurate inventory control
Cons:
None to speak of. Every program will have it's pluses and minuses. Overall great value for the investment.