Paychex Flex
What Is Paychex Flex?
Paychex Flex is an all-in-one Payroll & HR solution that you can build on as your business grows or changes. Use it to run payroll and integrate your HR administration, retirement, and insurance
Read more
management with service the way you want it and our expert knowledge of the regulations that could affect your business. Get 3 months of free payroll for a limited time. Click the link to get the details.
Read less
Who Uses Paychex Flex?
Paychex Flex is an ideal payroll and HR solution for small and midsize businesses in a variety of industries, including retail, professional services, food service, manufacturing, and construction.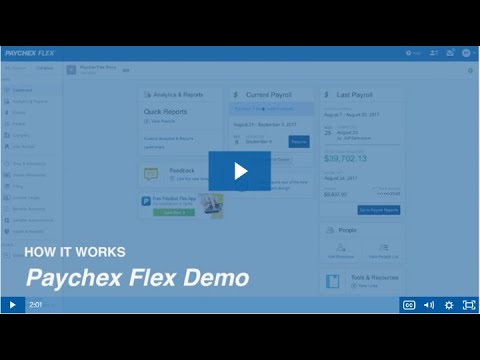 Not sure about Paychex Flex? Compare with a popular alternative
Not available in your country
Paychex Flex Alternatives
N Armand François
CEO in Burkina Faso
Verified LinkedIn User
Computer Networking, 2-10 Employees
Used the Software for: 6-12 months
Alternatives Considered:
I'm very satisfied
Pros:
Overall correct application and easy to use
Cons:
Nothing special really. Good application, I recommend it
Pharmaceuticals, 501-1,000 Employees
Used the Software for: 2+ years
User Friendly
Comments: I love that Paychex Flex is very user friendly.
Pros:
I use Paychex Flex to clock in and out daily, check my time card, request time off and for retreiving an W2. I love that this portal is very user friendly. Nothing is hidden. You can easily find what you are looking for using the tabs on the side. You can also customize your home screen to display what you are needed. As soon as I login in I'm able to clock in and out, view how many hours of PTO I have as well as paystubs.
Cons:
I would improve being able to have more widgets in the home screen so you are able to see your time card and attendance right on your home screen. It would be easier to track.
Samantha
HR Director in US
Hospital & Health Care, 51-200 Employees
Used the Software for: 1-5 months
Does not communicate
Pros:
Easy to use the payroll portion and enter time in the system
Cons:
No communication. I was clear about wanting to use direct deposit, and they took money out of my account twice - once for direct deposit and once for paper checks which came 2 days after the pay date even was.
Heather
Director of Databases in US
Nonprofit Organization Management, 11-50 Employees
Used the Software for: 2+ years
Easy to use as an employee
Comments: As a user, Paychex provides an easy-to-use platform for time tracking and paycheck information. I downloaded the app but chose to stick with the website due to the straightforward nature of being able to clock in and out quickly, request PTO, and approve employee time tracking with a few clicks in a web browser.
Pros:
Paychex is easy to use as an employee. Being able to clock in and out is simple - there is a button to click that records the punches. I've also used the timesheet to manually enter time, which is also straightforward. As a supervisor, seeing my direct report's timesheet is handy. To approve, it's a matter of checking a box for approval - I feel like it could not get any simpler as an end user.
Cons:
While easy to use, I'm not too fond of the feature for switching between the employee (self) details and supervisor (direct report) details. A switch role function in the upper corner is not necessarily intuitive. I would love for there to be a way to have it all on the same "home" page rather than having to switch roles. While I personally do not have anything to do with the setup of Paychex, I am going to assume there are some issues from there, as our HR department seemed to have difficulty making updates to the system regularly.
Carmen
Electrical designer in US
Design, Self Employed
Used the Software for: 2+ years
Good payroll app
Comments: Easy to use.
Pros:
Everything about payroll, paid time off, vacation time, requesting time off, direct deposit and paycheck stubs are all easy to access.
Cons:
No complaints about Paychex flex, don't have anything else to compare it to.