Bitrix24
What Is Bitrix24?
Bitrix24 is an online workspace for small, medium, and large businesses. It features 35+ cross-integrated tools, including CRM, tasks, Kanban board, Gantt chart, messenger, video calls, file storage,
Read more
workflow automation, and more! Switching to Bitrix24 eliminates the need to be subscribed to a bunch of different SaaS solutions. You get all you need in a single package — all at a flat rate. With over 10 million users, Bitrix24 is one of the most popular business software solutions in the world.
Read less
Who Uses Bitrix24?
Bitrix24 is a perfect solution for all types of businesses. It has something for every department — sales, marketing, project management, HR, and more.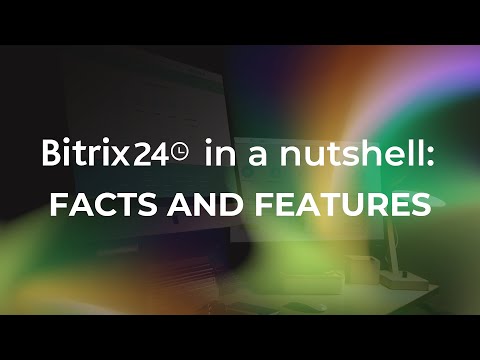 Not sure about Bitrix24? Compare with a popular alternative
Jose
CTO in US
Verified LinkedIn User
Market Research, 2-10 Employees
Used the Software for: 2+ years
Alternatives Considered:
A Strong CRM for Growing Businesses and Sales Teams
Comments: Bitrix24 is a great CRM for advanced users and professional sales teams and marketers. For new users, it's important to highlight the learning curve to achieve the maximum results with this platform.
Pros:
Bitrix24 has an extensive CRM module, where we can track and store the data we need about our leads and clients. Even though Bitrix24 offer other modules like Websites builder, the CRM is the feature I like the most about this great app.
Cons:
Me and some members of my team felt Bitrix24 user interface was a little bit overwhelming compared to other CRM platforms out there. I believe Bitrix24 user interface could be simpler.
Thierno Ousmane
Loans manager in Guinea
Banking, 501-1,000 Employees
Used the Software for: 6-12 months
Bitrix24, a promising software in Business management.
Comments: CRM is the key element for any company to thrive in the digital world besides SEO (Search Engine Optimization). We cannot dig deep around it, since it is not our aim topic here. Just know that CRM is a tool that helps companies stay in touch with their clients by analyzing their needs to increase sales. Not only Bitrix24 has it. Microsoft, Salesforce, Zoho, to name just those, have it as well. I really like the fact that Bitrix24 has its own CRM integrated. We don't need to find another CRM tool elsewhere. It is very helpful because the software enables us to create a detailed database about our clients. This is a very promising product that needs to be improved. I think its whole potential is far from being completely unlocked. Meanwhile, before we have a new version, I globally enjoy this software.
Pros:
First of all, what is Bitrix24? It is a multi-operations software that enables multi-tasking, from: Creating business sites, automating sales, and project management with rich communication features. That's why it is called the "All-In-One". The things that I like about this software lie in its essential tabs on the dashboard: - The Activity Stream from which we can see the employees of a given project with whom we can interact through chats (both video or text) or comments; there's a comment section actually for the different projects. While writing, we can share files and use emojis; - The Employees tab presents the organizational chart with the names of all the employees. And, we can organize it as we want by adding new members or removing some, creating different Departments, and sharing the roles. This makes team management very efficient; - The Tasks and projects tab that permits us to create tasks and manage the different teams working on them. What is even cooler with this tab is that Bitrix24 gives us an Analytics kind-of-feature that shows in real-time the performances of the different projects, the timing from the beginning to the ending planned, the ongoing tasks, the completed ones, and the total; - The CRM which stands for Customer Relationship Management. What is adorable with the CRM of Bitrix24 is that we have a whole tab dedicated called CRM, and it is actually very intuitive to use: We can add our clients' names, their contacts, and some notes about them.
Cons:
2 things that are less-likable: - The custom support is sometimes hard to reach. They take a long time to reply to our emails. This can make us feel lonely facing some bugs we would like to report and get the help we need; - The price is too high for small businesses. Bitrix24 charges USD61 /month (from time to time we can have sales dropping the price) for an entry-level; while softwares like Zoho charges only USD12/month.
Thato
IT SUPPORT ADMIN in Botswana
Hospitality, 51-200 Employees
Used the Software for: 2+ years
Alternatives Considered:
Bitrix24 Review
Comments: All in all, Bitrix is quite useful as it enhances collaboration and makes file sharing easy
Pros:
Recurring tasks and processes can be automated. Collaboration has increased in our workplace, which has improved our workflow and productivity.It is compatible with a variety of business management services.
Cons:
the network drive sometimes does not connect even with reasonable internet strength.
Silas
Ceo in Brazil
Verified LinkedIn User
Computer Software, 2-10 Employees
Used the Software for: 2+ years
Complete management
Pros:
The tool has everything a company needs to manage, and it has free plans.
Cons:
Because it is very complete, at first it is a little confusing to use, a lot of information, but then everyone gets used to using it
Rohit
Management Consultant in India
Verified LinkedIn User
Management Consulting, 11-50 Employees
Used the Software for: 1+ year
Alternatives Considered:
Great Value for Money
Comments: It is a very good app with almost all that one can think of.
Pros:
CRM, Task Management, Time tracker are among the best features in the app
Cons:
Document mgmt and mobile crm dont work too well