Local product
What Is ArcLab?
ArcLab is a mobile learning SaaS Platform - built for the Deskless Workforce.
ArcLab is honoured to be featured in Holon IQ's SE Asia Ed Tech 50.
Organisations use ArcLab's Learning & Development (L&D) platform to easily create, deliver Nano Learning - targeted bite-sized training modules - to employees on-demand, through mobile.
ArcLab provides assessment modules, NanoCredentials (digital certificate badges) and learner analytics to track training uptake and map skills gaps.
Who Uses ArcLab?
Not provided by vendor
Where can ArcLab be deployed?
Cloud, SaaS, Web-based
Countries available
Singapore
Languages
Not provided by vendor
Countries available
Singapore
Languages
Not provided by vendor
ArcLab videos and images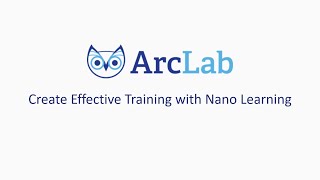 Compare ArcLab with similar products
Features of ArcLab
Built-in Course Authoring
Course Tracking
Learning Management
Mobile Access
Tests/Assessments
Mervin
Vice President in Singapore
Verified LinkedIn User
Food & Beverages, 1,001-5,000 Employees
Used the Software for: 6-12 months
Best product for the deskless workforce to train and upskill
Comments: We are communicating more effectively with ArcLab, the dashboard allows us to know with confidence that staff picked up the training content. [SENSITIVE CONTENT] and his team are passionate and scaling their product to greater heights because they understand the challenges involved with the deskless workforce.
Pros:
The adoption rate is much higher than expected, as there is a very low barrier to entry due to their web based solution. Staff who are not digitally savvy are able to navigate easily to the bite sized training content delivered through SMS.
Cons:
They are a growing SaaS, hence some non-critical issues are inevitable. However, their team resolved these issues very promptly.
Barbara
Executive in Singapore
Education Management, 501-1,000 Employees
Used the Software for: Free Trial
Awesome software for students' micro-learning
Comments: Amazing! I will be using this software again!
Pros:
I was able to use the software to design micro-quizzes to test my students' understanding. The software was easy to learn and use. None of my students had difficulty using it. The variety of quiz format was better than some of those other "branded" software out there. I love the word scramble most! Would love to see what other quiz format can be added to the software in the future! Also like the part where there's no silly music, enabling me to speak to my students while my students attempt their quiz.
Cons:
I need to be able to compare results across.
Jing
Snr Exec in Singapore
Education Management, 1,001-5,000 Employees
Used the Software for: Free Trial
Review on puzzle game
Comments: It was quite an easy-to-figure out platform for starters.
Pros:
It is a good feature to have, the creation of puzzles as a game for students to play and recap what they have learnt at the same time.
Cons:
The game does not connect the players to a main screen. There could be an added element of fun if there is a host that can manipulate the game with respect to duration per question, toggling the questions etc.
Edwin
Service Manager in Singapore
Maritime, 2-10 Employees
Used the Software for: 1-5 months
Highly effective tool for autonomous training
Comments: It's been a pleasure working with Arclab. We have so far been very pleased with the conceptual phase, implementation and after sales service.
Pros:
1. Training material permits use of interactive media to enhance assimilation by the trainee. 2. Arclab's concept makes autonomous training possible. This allows trainee to pace out or schedule his/her training based on the work demands. 3. Autonomous training also frees the company of having to organize collective training sessions, or assign trainers. This minimizes overloading of precious resources such as manpower and time. 4. Though training is autonomous, the possibility of including tests and reviews ensures that there is a deliverable at the end of the training.
Cons:
We are extremely pleased with the product. At this moment, we do not yet see any aspect that requires immediate attention. But given more time and interaction with the product, we believe we can provide some constructive feedback to Arclab for improvement.
Yinjie
Director in Singapore
Education Management, 11-50 Employees
Used the Software for: 2+ years
Engaging learning for a new-age workforce
Comments: ArcLab has helped me with training my instructors, and in actual classes with students for exam prep.
Pros:
ArcLab helps deliver impactful, bite-sized learning in an easy-to-use package that's intuitive and hassle-free for trainers.
Cons:
The ArcLab owl stares into my soul, if I really need to say something for this field.